Seven go to Istanbul: the Scene is Set
Posted on
As an Indian Art anorak it is somewhat of a departure to find myself travelling with a different set of anoraks, namely a bunch of Crimean War groupies.
My good friend and fellow-writer, Jay, happens to be married to one of them, so when she discovered that they were going to Istanbul to tick off a few more Crimean War must-sees on their list, she invited me along. Now I have long wanted to see this enigmatic city and it didn't take much persuasion.
Including me, we are a motley crew of seven geriatrics, four females and three males who are married to three of the females (not me, I hasten to add! Which makes me the odd one out). The male members of this group are under-powered and need regular top-ups at convenient recharging points aka any watering hole that sells beer. The females aren't averse to the occasional drop of the honey-coloured liquid either, all except me – firstly I hate the taste of the stuff, and secondly I'm ever mindful of the fact that what goes in must come out. Public amenities are rare outside the centre and even there they are not always an experience that bears repetition: it's not so much the cleanliness, which generally isn't bad, it's the fact that locals lack that very British concept of 'the queue' and you can find yourself repeatedly pipped to the pissoir, so to speak (okay, poetic license, I know I'm a woman!).
We are staying at the Avicenna Hotel, five minutes away from the back of the Blue Mosque. The Avicenna is one of those old wood-clad Istanbul houses that appear, on first impression, picturesque and quite humble from outside but reveal a maze of rather grand marble staircases once you get inside. There's a nice, reasonably-priced restaurant on the second floor, with views across the Bosphorus.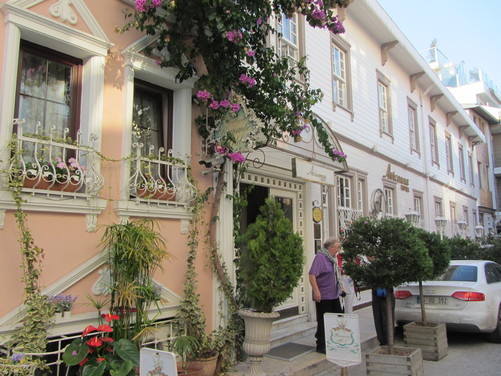 The rooms, however, revert to the humble nature of the first impression. Not much space to swing a cat (and there are plenty of those in Istanbul), and a bathroom that ensures you watch your diet during your stay – or you might find yourself trapped in the shower. The view through my window is of a decaying backyard, a tumble down building and a railway line. The end of my hairdryer rolls off onto the floor whenever I knock it, Jay has no shelf over her basin, resulting in a fight between her hairdryer and a glass – the hairdryer won. The shower is mean – it lulls you into a false impression of lovely warm water and then suddenly switches to freezing. One couple in our group has had to move rooms after repeated plagues of 'little black insects'. Not that they minded because they were getting tired of being entertained by bathroom activities from the room next door. Nights are enlivened by feline vocal duelling challenges outside the window. Oh yes, and you have to pay for everything, including the tea bags on the tea tray, and the thoughtfully provided bottled water, in spite of a notice warning you not to drink the tap water. I circumvent this by boiling up a kettle of tap water daily and letting it get cold. Which reminds me – there's no socket where the kettle stands, so I have to pick it and its base up every time I boil it and take it across the room.
Having said all that, don't let me put you off. I would stay there again. The beds are comfortable, the safe in the room is big, easy to set and fixed to the wall (don't laugh – I've frequently come across safes that can be picked up and carted away!) Breakfast is lovely – especially the yoghurt. Wi-fi is free and the fastest I've experience anywhere. And the location, five minutes stroll from the Blue Mosque, is perfect.