Kandy and Spice - Sri Lanka Part 11
Posted on
I'd crossed 'Visit to a Spice Garden' off the itinerary suggested by the tour company. We'd all been to one before, either in Sri Lanka or in Kerala, and we all knew that it would be yet another glorified shop stop.
So it was a bit of a surprise to find ourselves pulling into the 'Sirilak 50 Herbal and Spice Garden - Tourist Board Approved' in Matale, as we drove from Sigiriya to Kandy.
A unanimous lack of enthusiasm pervaded our party until we spotted the signs for the toilets, at which point the unforeseen stop acquired instant appeal.
Heinz and Margot were allocated a German-speaking guide and disappeared with him . Pam and I were commandeered by a youngster who declared himself to be an English-speaking guide, though much of his English was incomprehensible. From the start he treated us with total lack of interest. He'd learned his lines and he might as well have been reciting them to a couple of geckos. He whisked us around the garden, stopping at various labelled shrubs and trees. There he regaled us with his rehearsed script, rapidly delivered, eyes fixed on some distant spot. And if we asked any questions, he brushed them aside as if they were irritating insects, which I think was probably a cover-up for not actually understanding what we were saying.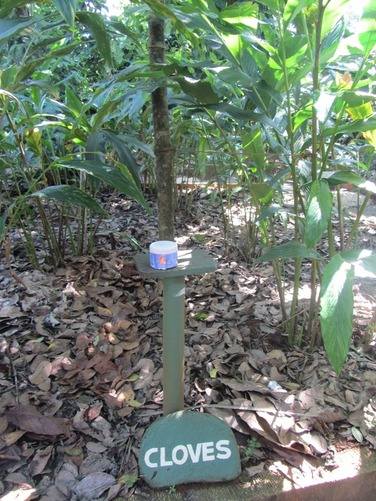 Occasionally a few clear words rang out amidst the gibberish. As we approached an aloe vera plant he suddenly swung round to Pam and demanded, 'Show me your legs!' to which she had the presence of mind to snap back 'No!' before we both exploded into expressions of outraged disbelief.
But it would take more than a couple of affronted foreign geckos to put this fellow off his stride. After declaring the virtues of aloe vera for beautifying legs he said (extremely loudly and with surprising clarity), 'Excuse me, but you are both old.' Before the shock had a chance to register, he continued, 'You can use our aloe vera cream and you will look twenty years younger.'
At the end of this illuminating and stimulating tour he took us into the garden's 'pharmacy' where he had one more verbal treat in store for us. Once again his tongue took off at a rate of knots and I drifted into a netherworld of aloe-vera induced youthful pleasures while striving to stay awake as he produced numerous fiendish potions and rattled off their miraculous qualities. I was brought back down to earth when I suddenly heard him declare that we should absolutely definitely purchase this bottle of some 'metabolic' concoction that he was waving around. 'Take for three months, then slim body, not crazy body,' he ordered, glaring at us.
I made a mental note to put a notice on my fridge door 'Keep closed for three months, then slim body, not crazy body'. Unfortunately my (lack of) will-power has ensured that crazy body is unshiftable. Should have bought the metabolic concoction…
We met up with Heinz and Margot when we fled into the garden's spice shop. By the sound of it, their guide's German was marginally better than our guide's English. And he hadn't suggested they needed beautification, reduction or rejuvenation. Even he had managed to work out that it was better not to go down that road when half your party is bearded, gruff and clearly takes no prisoners. Sometimes it's useful to have a man in your team.
Of course it was obvious why we had not been allowed to miss the spice garden, a trap for gullible tourists. You were expected to stock up on beautifying unctions, cooking spices and leave a hefty tip for your wonderfully knowledgeable expert guide. Oh yes, and no doubt the driver and the tour company would also get their share. I did, in fact, buy some cinnamon bark – a request from a Sri Lankan friend back home. However appalling their interaction with the public might be, we wouldn't be calling in at any other similar establishments, and the spices they sold here were, hopefully, superior to anything lying around on supermarket shelves in Colombo. However, the guide most certainly did not get a tip! To do that, he would, at the very least, have had to acknowledge that we were human.
We waved goodbye to this Garden of Eden where we could have stayed forever young and beautiful, and drove on through the town of Matale. Here Upali, knowing my interest in Hindu temple art, turned into a buzzing temple forecourt, which was filled with people. It was a typical South Indian temple, covered with vast pantheons of vibrant, colourful deities, an eccentric kaleidoscope of life and a real contrast to the tranquil contemplative Theravda Buddhist art that dominates the island.
We weren't allowed inside as there was a special puja taking place and the temple was closed to non-Hindus. But we were free to wander around the courtyard. In one corner we found the processional carts, which were used to haul the deities around the streets during festivals.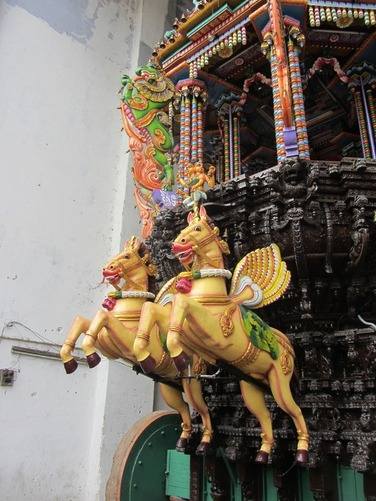 It's only about ninety kilometres from Sigiriya to Kandy but the journey was slow – the roads narrow with only one lane in each direction – and we had already made two major stops. It was a good thing we had set out from Sigiriya relatively early - at 9 am. I wondered how on earth we would have managed to climb up to the Dambulla temples on the way – as the tour guide had originally suggested. Thank goodness we'd done that yesterday. Another instance of the advantage of having control of your own tour. Had we not been in charge, we would probably have had barely an hour's stop at Dambulla, which would have been enough to race to the top, poke a nose into one of the temples just to say we'd been there, done that (no tee-shirts for sale here) and rush back down again, not quite remembering what we had actually seen, and not having the faintest idea what it was about.
And would we have had time to call in at the Hindu temple? Would it matter if we hadn't? Yes, it would matter. Unless you see a wide spectrum of daily life in a country you cannot build any impression outside the contrived tourist circuit. It's these unexpected bonuses that give you at least a glimpse of the real country, of everyday life outside the national sites of importance.
One more stop was on the itinerary before we reached Kandy: the Peradeniya Botanical Garden. Once again I wondered how we could have done it justice, had we stopped off at Dambulla. As it was, we were only given a couple of hours to explore the 147-acre park.
This was my third visit to Peradeniya, my first having been in 1969 when we had been invited to the veterinary department of Peradeniya University, the oldest and most venerable university in Sri Lanka. It was here that we met the elephant-owning vet who became the inspiration for my short story 'Flight'. We had stayed a couple of nights at the Peradeniya rest-house, and, of course, visited the world famous botanical gardens. Although the locals argue that there is evidence of some kind of botanical connection there way back in the 14th century, this is just a bit of Sri Lankan pride popping in. In fact the gardens really were founded in the 19th century under British rule. A lot of the original plants were imported from Kew. Not everything the Brits did was bad.
I came again in 1996, with the Sri Lankan family. It rained on that occasion, but not for long, and we took refuge in the café while the shower lasted and looked across the vast green to the strange trees on the other side. The view has not changed.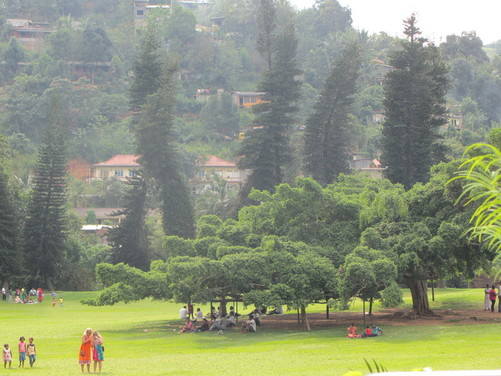 Now here I was for the third time with barely two hours to do the gardens justice and strict instructions to be back at the gate by four o'clock and not to be late because the driver could not park. So we headed straight through the park to the famous suspension bridge spanning the River Mahaveli (the longest river in Sri Lanka) at the far end. On the way we looked at the grove of trees planted by the famous and powerful, including Chou En-lai, the Czar of Russia, and of course, our own Queen Liz.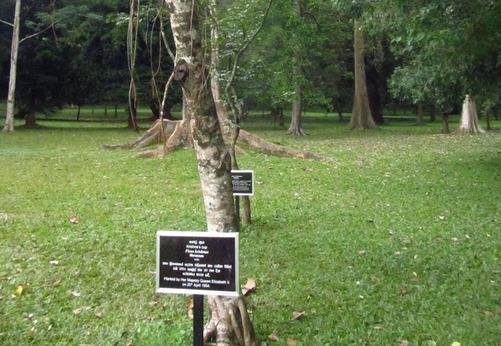 Then we strolled down one of the park's iconic walkways the 'Avenue of Palms'.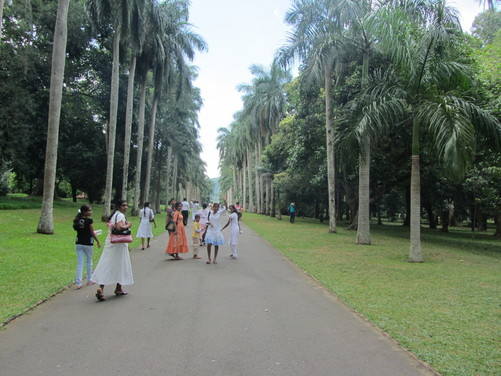 We also admired the cannonball tree planted by King George V and Queen Mary in 1901.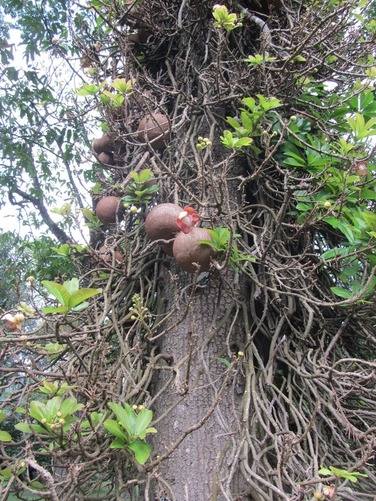 Only a few people at a time are allowed on the suspension bridge, and you can only go to the centre and back. But it's one of those 'must do' things and good fun as well as good views of the river. In 1996 I spotted a kabaragoya (water monitor) on the bank. This time I only spotted some noisy trucks whizzing past on the main road opposite.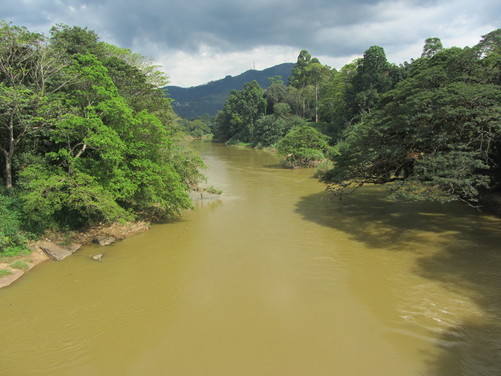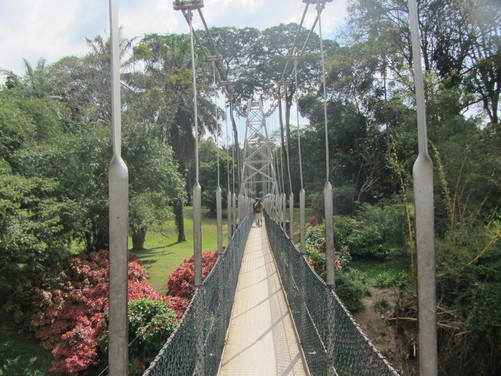 Our last port of call was the famous orchid house. It is certainly beautiful but… perhaps the Wisley Glass House has spoilt me. Or perhaps orchids are just becoming more accessible. Stunning as the blooms were, there was nothing, I felt, that I couldn't see right here at home.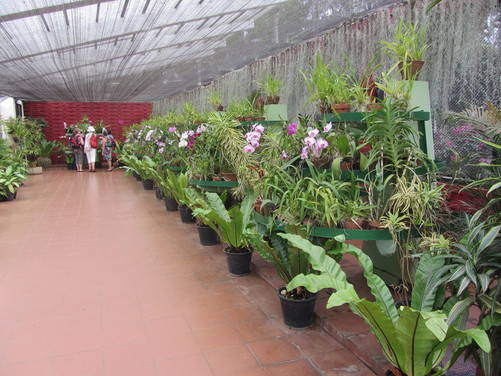 The reason for our strictly time-limited visit to the gardens was, it transpired, because we had to fit in a visit to a 'gem factory' before the scheduled 'Cultural Show' in Kandy. Of course we all know that any sort of factory is actually a glorified shop. But this time we could be sure of one thing – none of us would be splashing out. We paid lip service to the visit and left very quickly, although the gems, particularly the sapphires for which Sri Lanka is famous, were undeniably pretty. In any case, I didn't need one – my nephew bought me a lovely dark blue sapphire in 1996. I know, you're thinking that the more desirable ones are a lighter blue. That's what they all told me, but I loved the dark one best.
The Culture Show was supposed to be part of our 'paid for' package but the news hadn't filtered through to Upali, who insisted we pay again. Not a good start, but we'd sort it with the tour agency later – well, that's what we thought, anyway.
Kandy is probably justifiably regarded as the cultural showplace of Sri Lanka. The famous Kandy Perahera, when the Buddha tooth relic goes on parade, takes place every July or August. The Kandyan Dancers are also cultural icons of the island. We didn't expect any elephants to pop up on the stage, but there were plenty of dancers, some of them displaying breath-taking acrobatic skills. And afterwards we were taken out of the Cultural Centre into the courtyard where we were 'treated' to a display of pyrotechnics that included fire-eating and walking on hot coals. Great stuff.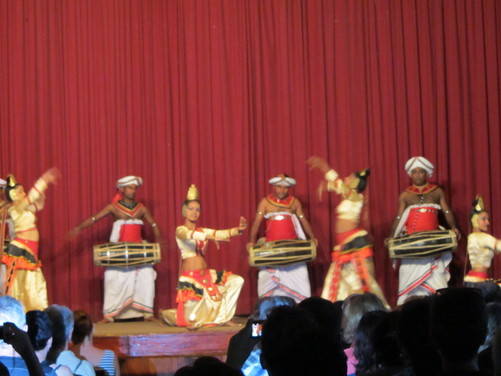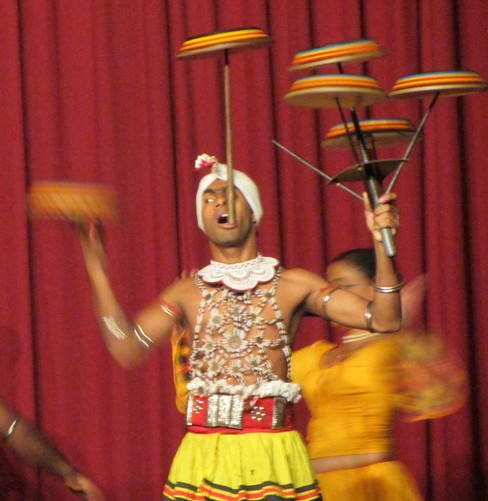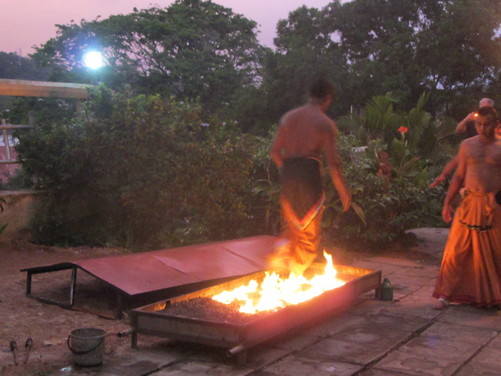 The day ended on a sour note. We arrived at our hotel, the Topaz, beautifully placed on top of one of the hills overlooking Kandy, to find they'd never heard of us. The agency had booked us into a different and inferior hotel without telling us, or the driver. After a long day we had to return to the vehicle, head back down the hill and up another one. Our introduction to the Hilltop Hotel left much to be desired. The guide of an Indian bus tour was having a shouting match with the man on reception. His choice of language was so disagreeable that eventually I intervened, reminding him that there were ladies present. I don't usually consider myself ladylike but at times it has its uses. The guy apologised and shut up.
The rooms were substandard, the meal outrageously expensive, the Indian group was having a loud karaoke session at the far end and the mood among my party was poisonous. I've travelled enough in the east to know that things go wrong, and to be philosophical about them. Unfortunately some of my fellow travellers are less forgiving.
Pam and I decided to cheer ourselves up after the meal by chatting to the Indians though we drew the line at joining in the karaoke.
Ah well, tomorrow would be different.