Onward and Eastward: Sri Lanka Part 5
Posted on
(Left Jaffna with mixed feelings. Would have liked to have stayed longer to explore the peninsula, but The President had scuppered that plan. All is probably for the best though, as some of us needed our spirits lifting…)
Breakfast at the Jaffna Tilko, as I've previously mentioned, was dire. Apart from the leathery dosas and atrocious bread (so my companions informed me) there was the coffee. A small pot of coffee powder was left on the 'buffet' table with a kettle of hot water. Now I hate instant coffee at the best of times and this took the biscuit. The coffee simply would not dissolve in the water. I left it in disgust and did without, telling the bemused 'waiter' (they also serve…) it was undrinkable. As did my trustee trio of fellow travellers. However all is often not what it seems, and later, though we had not drunk our coffee, we had cause to eat our words. For now though we put up with rumbling stomachs and dry throats as we clambered into the van at 8 am for the long drive to Trincomalee.
The first couple of hours of our journey retraced our tyre-treads southwards as far as Vavuniya – that's another blast from the past, and not only the past. Vavuniya was the front line during the civil war and even now is a volatile town: Tamil militant insurrections still erupt here from time to time. Non-locals avoid the place. All except us, of course. Ah, the joy of being innocents abroad. We sailed through the town for a second time without incident.
Looking for positive signs as we trundled on through landmined countryside, I saw this on the side of the road. Was it a expression of peace between former enemies? For a moment I thought so. Now, on reflection and after a bit of research, I think it's simply the motto of one of the Sri Lankan Army regiments, who are probably stationed there. Still, it's a good motto, whoever put it there.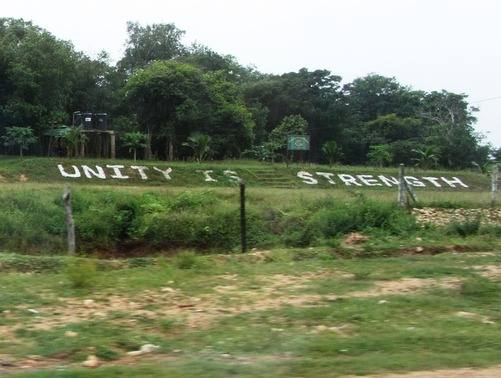 From Vavuniya we turned east along the main road to Trincomalee. In fact it was a diabolical stretch of highway, at times amounting to little more than a track. The distance between Vavuniya and Trinco is approximately two-thirds of that between Jaffna and Vavuniya, but took twice as long. Upali was not a happy bunny. He had wanted to follow the road south as far as Mihintale and then turn east along a better road. But the tour agency refused to pay him the extra mileage. Since the car belongs to Upali they had no interest in the potential wear and tear that would result, as long as they kept their costs down.
On this road also we encountered constant evidence of the past conflict: very few dwellings were whole, most had suffered war damage or been completely destroyed, though the occasional town was bustling. The landscape was less Spartan than further north. We passed paddy fields and many stretches of water.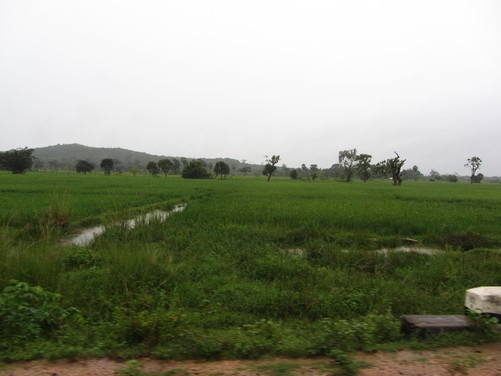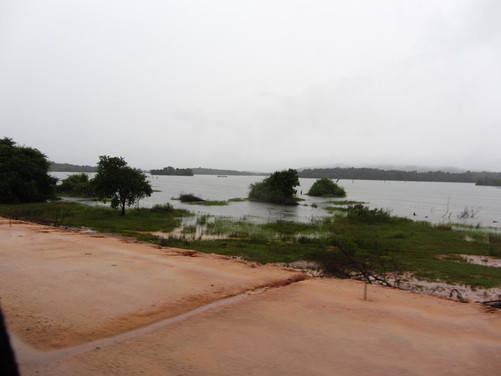 And talking of water, it started to rain. Did I say rain? I meant RAIN. It was quite timid at first, a few showers here and there. The others were worried. 'It never rains all day,' I assured them, based on my pre-monsoonal experience in South India. 'It'll stop in an hour or so.'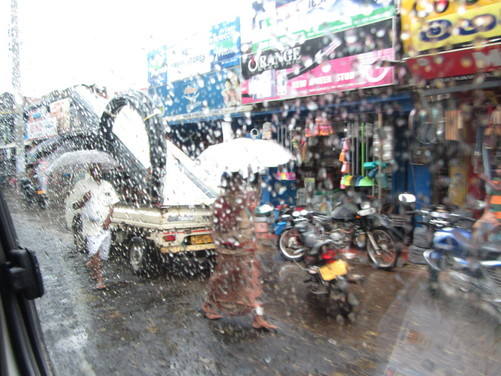 It didn't. So much for Clever Clogs. The gods slowly opened the heavenly sluice-gates a little wider. By the time we got to our destination it was raining as if all Indra's winged elephants were continually tipping up their water-pots to lustrate the earth. No more nice, gentle rain. A never-ending deluge.
It was 2pm when we turned into the Nilaveli Beach Resort that was to be our home for the next couple of nights. We couldn't see a lot because of the rain but during a break (the only one) in the downpour we managed to get onto the beach, take a short walk and meet some of the locals on their way home before the gods got angry again.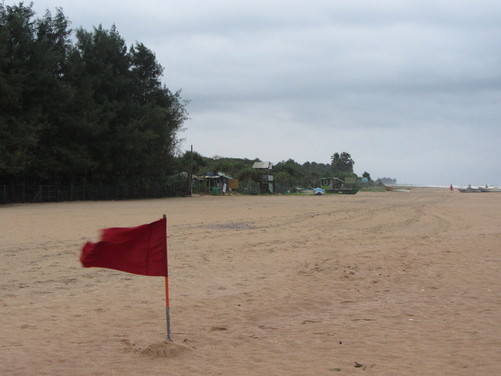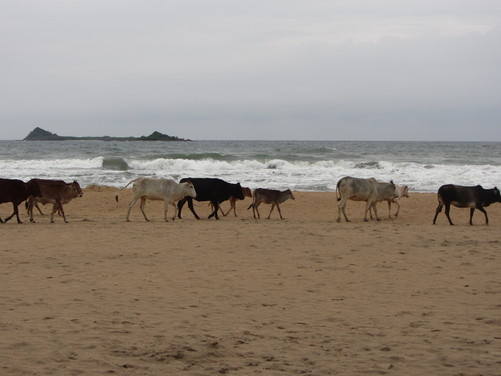 The sea was also angry. Huge white breakers lashed the shore. We looked over to Penguin Island where we had hoped to do a bit of snorkelling. 'Not today,' the owner of the Penguin Island boats told us. 'Perhaps tomorrow.' I thought he was being optimistic. In any case tomorrow was reserved for visiting Trincomalee, which was, after all, the reason for our long bumpy journey to this part of Sri Lanka.
The rain didn't let up. All we could do was rest, watch the sodden monkey troop swing through the grounds, and wait for dinner, which, when it came, was magnificent. The buffet included freshly caught grilled seafood, cooked on a barbecue in front of your eyes.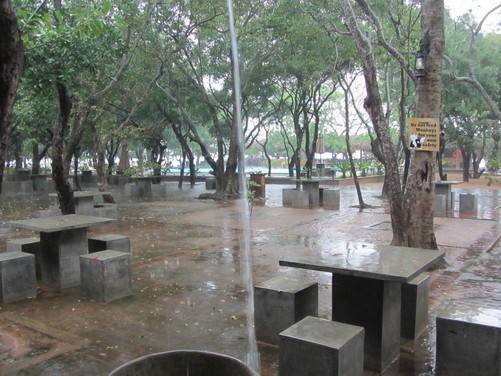 Meanwhile I watched the angry sea, reflecting that on Boxing Day 2004 this whole resort had been swept away in an instant. This is an excerpt from an article in the Sri Lanka Daily News on 1st January 2005:
'For over 30 years, the Nilaveli Beach Resort, built on a pristine stretch of sun-drenched beach on Sri Lanka's eastern shore, was the only luxury hotel in this sparsely populated fishing village.
The 83-room resort operated during the "bad times", when the army launched sporadic attacks on nearby LTTE hideouts at the height of a two-decade old war. Miraculously, it never suffered damage in the crossfire.
While many hotels went bankrupt, the Nilaveli resort maintained an average occupancy rate of 72 percent. On many days the hotel gave rooms to the military to run an emergency field hospital that cared for soldiers injured in battle.
But what a war that claimed over 64,000 lives failed to destroy was swallowed up by the very surf that many visitors came here to enjoy.
More than 300 people were staying at the Nilaveli Resort when the tsunami struck, and 15 of them - including eight unidentified foreign guests - drowned. Around 100 others are still missing.
Guests' vehicles were swept into ground-floor rooms while hotel furniture was found on the roadside 1 km away
As I stood watching the waves, the power of the sea, even during a 'normal' post-monsoonal storm, sent a chill through me as I reflected on what had happened here. I wondered why I could find no plaque or other means of commemorating those who had lost their lives. Maybe the owners are afraid of terrifying visitors, though the resort's story is well-known.
Demonstrating the grit and ability to pick up and carry on with life that typifies countries prone to disaster, a new Nilaveli Beach Resort has risen from the ruins of the old, and now there seems to be a general air of looking forward rather than dwelling on what cannot be undone.