Heading North: Sri Lanka Part 4
Posted on
We were supposed to spend two nights in Jaffna, but Upali, our driver, had some bad news to break to us while we were still in Negombo. The President of Sri Lanka had decided to pay an official visit to Jaffna while we were planning to be there, and had ordered our hotel, the Jaffna Tilko, to be emptied for security reasons for the second night of our stay. To quote the Sri Lankan Government News Portal:
'The President is scheduled to preside over the District Development Special Meeting ... This meeting will be held at the Jaffna Tilko Hotel.'
I would imagine, though the details were not disclosed, that the President was actually staying at the Tilko, since it appears to be the only halfways decent hotel in Jaffna. I only hope he had a better breakfast than we did.
Because of this development we would only spend one night there, and would be spending an extra night instead at a resort near Trincomalee. In retrospect it was only at my insistence that we got to Jaffna at all. Upali had, at first, tried convincing us that we would have to cancel both nights and go straight to Trinco. This would have been a terrible blow. Trinco aside, this would put us straight back onto the tourist route, and my contention was that in order to get a wider impression of Sri Lanka today, we had to get into the areas previously out of bounds. Most tourists just see the pretty parts that the tour companies want them to see. They have no idea of what's going on in the north.
It took Upali several calls to his office finally to come back with the news that we needed only to cancel the second night. But a little penny had begun to drop.I could see that he would have been relieved if we'd cancelled both nights.
Upalia admitted to the other three ( not to me, the 'tour leader') that the only reason he was taking this tour was because all the other drivers employed by the agency had refused. Part of the reason, he explained candidly, was because you get better tips from a series of short tours than you get from one long one. He went on to tell my companions that the last long trip he'd taken was fine as his passengers had given him extremely generous tips - he did not fail to spell out exactly how much he'd been given. All this was not very subtle! However, he was a very pleasant young man, and went out his way to be helpful. Poor lad, not an easy task to be stuck with four bolshie geriatrics for over two weeks.
As we headed north towards the Tamil lands that had been war torn from 1983 until May 2009, the other reason for reluctance to take us to Jaffna began to filter across to me. We were all heading into uncharted territory. You will be hard-pushed to find a UK tour company that includes Jaffna in its standard offers of tours. It is still a very sensitive area.Upali had only once previously been there - and that with an uncle as a teenager.
Even now, we had to go through a border control when we entered Tamil territory. Some huts had been set up, we had to get out of the van and surrender our passports for inspection by military security officers. In fact they were very friendly and put us at our ease. They even had some makeshift (and very welcome) western style toilets set up.
After the control post the landscape began to change. Lush jungle scenery gave way to yellow earth dotted with bushes and dry zone grasses. We passed through towns and villages with familiar names: familiar for the very worst of reasons. Most of us, for example, can certainly remember BBC news reports of the battle of Kilinochchi.
Around us, the devastation we witnessed made the atmosphere inside the van tense. Most of the dwellings bordering the road were still in a state of total destruction. Only bombed-out shells remained, one after another, mile after mile.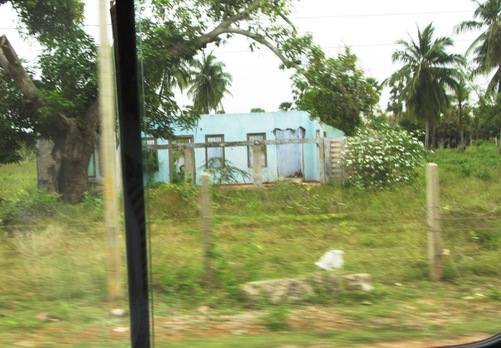 Approaching towns like Kilinochchi, the occasional building was left undamaged. The reason was very apparent. Such buildings had written large upon their red-tiled roof the words 'Red Cross' or a Sri Lankan equivalent.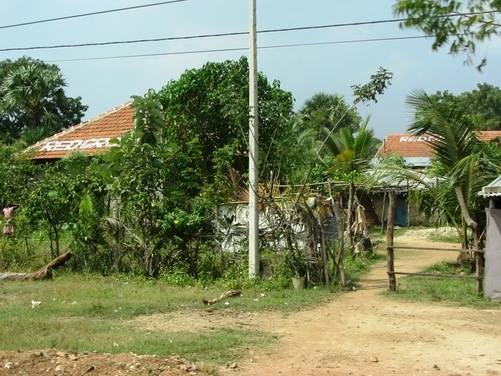 As we headed deep into the eye of the war-zone we began to notice the red signs every few metres in the grass verges and fields. They were landmine warnings. These extended for many miles on both sides of the road. And any doubts about whether the notices were still relevant were immediately dispelled by barriers closing off large areas and the ubiquitous presence of mine disposal squads – often made up of trained local people (trained by the British, according to the BBC) - sweeping the ground, or standing waist-high in trenches, with landmine detectors.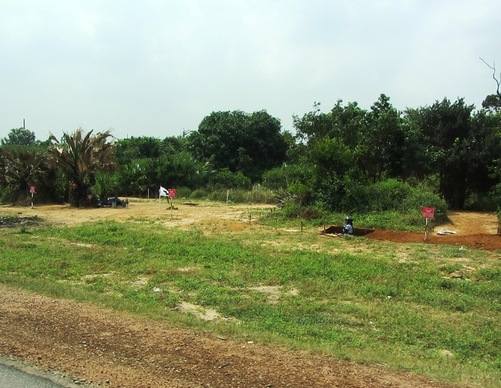 The Jaffna peninsula is flat and the landscape became watery as we crossed the causeway of the vast lagoon that surrounds the town.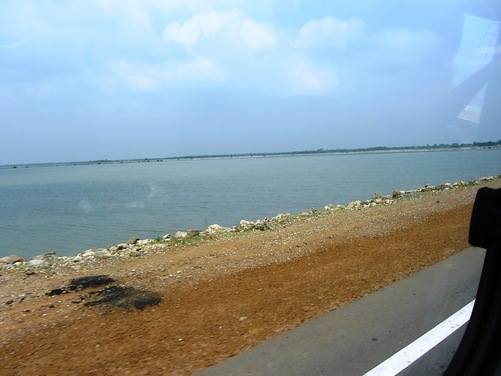 Anti-tank defences lay half submerged in the water, as if we needed a further reminder of the recent violent past. The flat landscape was also a graphic reminder that the 2004 tsunami had found little resistance here as it careered up to five kilometres inland. Over 2000 died in the Jaffna area in the disaster, many more were injured and the loss of homes, fishing boats and businesses was immense
.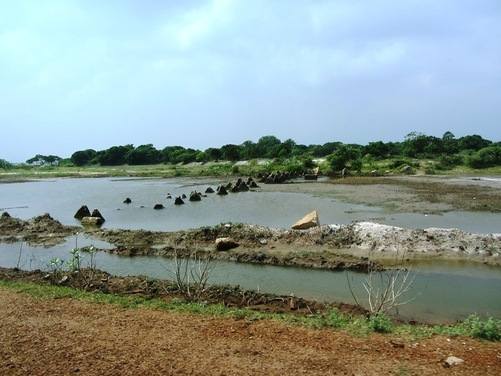 Driving into Jaffna itself, once a thriving Tamil town that also had a sizeable population of Sinhalese, Muslims and Burghers, felt like entering a ghost town. Most of the non-Tamils and also many of the Tamils fled in the civil war. In the early 1990s Jaffna's population was 149,000. Now it has dwindled to around 85,000. Many buildings on the main street are still empty shells.
Hotel accommodation in Jaffna understandably lags behind the rest of the country. The Tilko was friendly and adequate considering the circumstances. Breakfast, we would discover, was best forgotten. My set dosas were like leather, there was not much else on offer, and the service staff had no idea how to serve!
After the tense six-hour drive from Negombo and an hour's rest at the Tilko we were off again to explore the town. First stop was the pentagonal-shaped Dutch Fort. Originally built by the Portuguese in the 17th century, it was renovated by the Dutch in 1680 after the Dutch East India Company had wrested it from the Portuguese. It changed hands frequently during the civil war, being occupied at times by the Tamil Tigers and at times by the Sri Lankan Army, who are currently still in residence in part of the fort. It was badly damaged in the conflict.
It's quite a bleak place. There's no longer any superstructure and it's awaiting restoration with a large financial input from the Dutch. Some of the locals aren't too happy about glorifying this reminder of colonial oppression.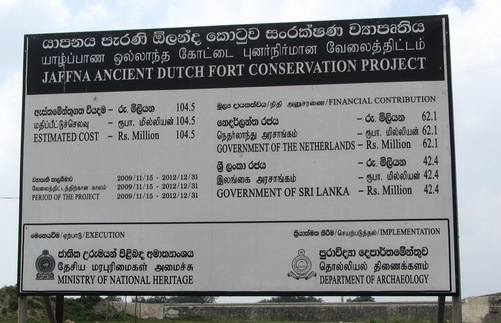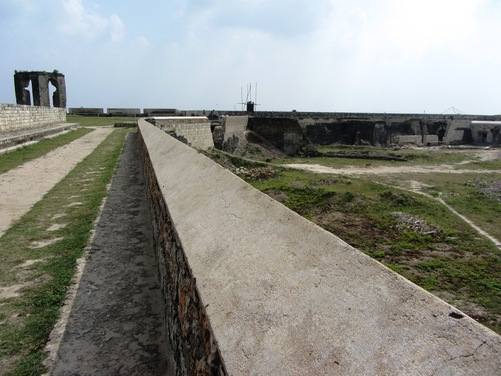 After exploring the site as best we could we moved on to the Public Library. This is a place of great importance, for its destruction by Sinhalese factions in 1981 was a turning point that helped ignite the conflict. The library had been a source of Tamil pride, and contained thousands of precious ancient Tamil manuscripts and historical records. After the fire very little remained. Now the library has been rebuilt and is being restocked through donations. Saraswathi, the Hindu goddess of learning, greets the visitor in the forecourt.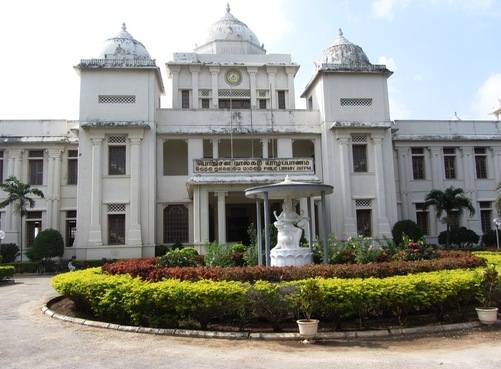 We were made very welcome by the librarians, who were eager to show us some of the few remaining ola (Palm leaf) documents that survived the fire. These were tracts on Ayurvedic medicine. To my amazement I was handed one of these delicate five hundred year old objects. A wonderful feeling but somewhat worrying – I wasn't even given gloves to wear. It seems conservation has a long way to go.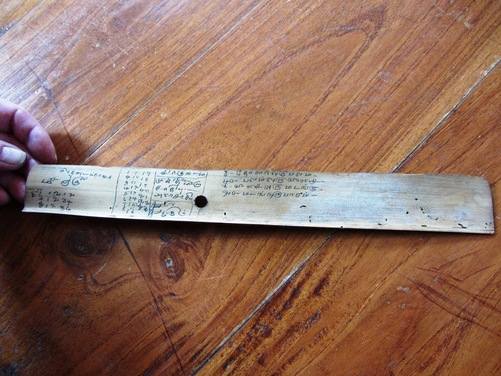 The suburb of Nallur was capital of the Jaffna Kingdom in the 13th century. It's a 1 ½ kilometre drive from the centre of Jaffna and home to the most important Hindu temple in the north – indeed one of the major temples of Sri Lanka. Surrounded by red and white striped walls, the Kandaswamy Kovil has an ochre-coloured gopuram (gateway) with a clock at its centre. The original temple was destroyed by the Portuguese and rebuilt in the 18th century. We arrived in time for afternoon puja.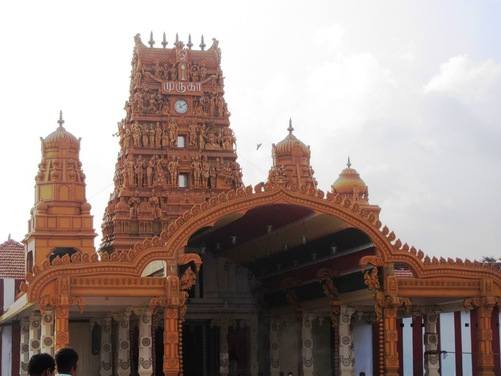 It is a curious temple – the inner walls are adorned with huge colourful murals depicting Hindu legends and many deities. The chief deity of the temple is Murugan, son of Shiva. Murugan, the warrior god, whose vehicle is a peacock, is extremely popular in Sri Lanka.
The whole of this temple is coloured ochre, including the extraordinary pillars. At first glance these seem to be piled up bricks, but a closer look reveals hundreds of small 'houses' – homes of the deities. This is an unusual illustration of the Hindu concept of the ever dividing and uniting nature of the cosmos. Photography inside the temple was prohibited, but this is a detail froma picture I took looking outwards into an inner courtyard.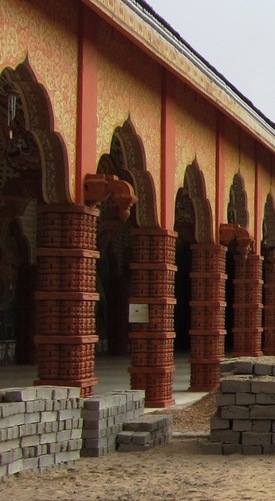 Another unusual feature of the Kandaswamy Kovil is the rule that as well as the standard removal of footwear, men also have to remove their shirts! This was enough to deter the one male in our party from entering. It made a refreshing change to find that, for once in a religious building, the advantage was with the women. Pam, Margot and I spent a happy afternoon thoroughly exploring the temple while Heinz was left outside in the courtyard.
The people who had come for puja were curious about us and made us feel very welcome. One old lady asked us where we were from. 'England,' she repeated in delight. 'So am I. I am from Southall.' She had come to Jaffna to visit her family. An elderly man was also thrilled to hear that we were from UK. 'My daughter is a doctor at the Good Hope Hospital in Sutton Coldfield,' he told us. Pam and I were able to tell him that we knew the hospital well, that Pam lives, and I used to live, not far from Sutton.
Nallur threw up a couple more surprises. Thanks to our faithful guidebooks (in my case the trusty Lonely Planet guide) we discovered that not far from the temple was Mangos, the 'best South Indian restaurant in Jaffna.' We resolved to come back in the evening for dinner. Meanwhile, since the afternoon was overbearingly hot, what could be more appropriate than to sample the famous ice cream at nearby Rio's Ice cream Parlour?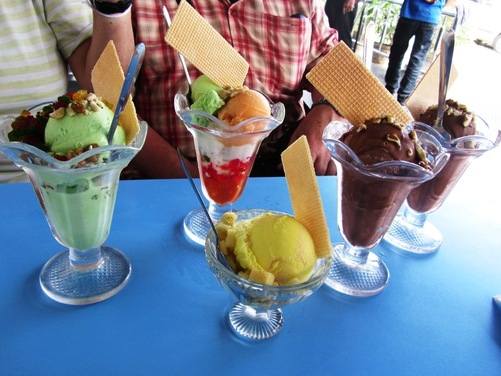 We spent considerable time and effort on our return to central Jaffna looking for 'Cathedral Road,' ostensibly home to St Mary's Cathedral 'astonishingly large and airy, with curiously, corrugated-iron roofing…' (according to the LPG). Not only could we not find the cathedral but no-one we asked (and Upali stopped several locals to get directions) would admit to ever having heard of Cathedral Road. By this time it was getting too late to continue searching. In consequence we missed what was probably a gem of Jaffna architecture. Amazing in such a small place to find neither hide nor hair of St Mary's although we did pass St James with its imposing façade.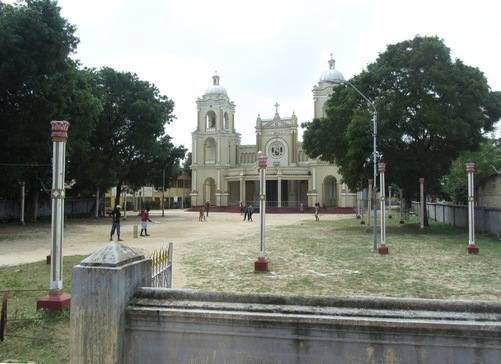 We drove back out to Nallur in the evening to eat at Mangos. A drive not without some tension as the police were out in full force, roads were closed and we were constantly diverted: all in preparation for the President's visit the following day. It took a nail-bitingly long time to get to Mangos. And when we got there, we found that some of the choices on the menu were not available in the evening. Still, my masala dosa was faultless. After the meal we headed back to the hotel, and to be honest, I breathed a sigh of relief when we got there. It was a bit spooky out on the streets at night, with armed police so much in evidence and a 'jumpy' atmosphere about the place.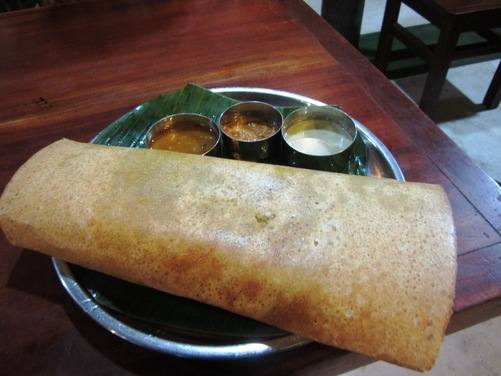 So what was my conclusion about my visit to Jaffna? Well, without doubt this brief taste of the north was the most important, if not the prettiest, part of the whole tour to Sri Lanka. Without it, my perception of the whole island would have been skewed. It was humbling, if harrowing, bringing home to me the horrors of the whole country's recent suffering, in a way that news reports could never do. But also bringing home an air of some optimism – a determination to rebuild and to 'normalise' life as far as is possible among the ruined homes and hopes.
If you are planning a visit to Sri Lanka, I do advise you to try and get to Jaffna. The people need tourists – we only saw a couple of other westerners – a mother and daughter – all the time we were there. The locals will make you feel very welcome. And the experience will change you and will give you greater insight into this complex island realm.