An Unexpected Pleasure; Part 1 of Sri Lanka 2013
Posted on
'Sri Lanka—teardrop of India. Life has been returned to me here. Over the past year I have learnt to live, and to love again, unconditionally. Here I have found greater happiness and peace than I could have imagined during those first, terrible days in this tainted paradise. For paradise it is, a voluptuous island, a lush garden of swaying coconut groves lapped by the Indian ocean; of mountain peaks and savage jungle; of ancient temples and elephants; of gentle people and enigmatic faiths. But this paradise has been violated; for it is also a place of brutal conflict and intolerance; of civil war and repression.' The Moon's Complexion
My novel 'The Moon's Complexion', was, of course, set in the 1990s. Now, spurred on by friends who wanted to go there, it was time to try and discover for myself how tainted this paradise still is.
My last visit of any duration had been in 1996, when I'd attended the wedding of my Sri Lankan nephew. I'd 'called in' briefly overnight in 2002 but that was it. In 1996 much of the country was still out of bounds due to the devastating civil war, and not even Colombo was without tension after a devastating bomb had torn through the centre of the city: handbag searches in stores and plenty of uniformed officers around. We managed a short trip to Kandy and Sigiriyia and a day at the sea, but the rest of my stay had been filled with ceremonies and celebrations in Colombo.
My early memories of Sri Lanka are from the 1960s and 70s, when my sister lived there. No photos to look back at as they are all on 8 mm film or 35mm slides. One day I really must get them digitalised.
Even in those early days I didn't get to the far north or the east of the island. These areas are not exactly accessible. My time was limited, and my main purpose was to see the family in Colombo.
Now, over forty years later, the family has dispersed throughout the world. My nephew emigrated to the antipodes during the height of the civil war, in order to give his daughters a better life. There's hardly anyone left in Colombo now, except for a few of my sister's relatives-by-marriage.
So although I would contact these relatives when I was in Colombo at the end of the tour, it was a strange feeling to be heading as a 'tourist' to a place that had figured so large in my family's lives, which held bittersweet memories.
My fellow-travellers were 'the usual suspects' – Pam, Margot and Heinz, my companions of many previous trips, including to India and Burma. I'd booked via my usual Indian Tour Company, and had caused some raised eyebrows when I specified the areas to be included on the itinerary. But more of that later.
We started off in Negombo – not by choice, but because the tour company had decided to put us in this seaside resort for the first night. It is not far from Colombo's airport, while not particularly inspirational, a convenient goal for weary travellers on Day 1. Since we'd arrived early in the morning, this meant that we had a whole day to unwind by the sea before heading off to Anuradhapura the following morning.
Our driver, Upali, who had met us at the airport, put us all in a great mood when he warned us not to stray from the resort because 'some foreigners were attacked and robbed yesterday'. Great. Just the start we needed.
As it happened, I would have been quite content to stay on the beach or by the pool all day – how very unlike me! But after a long flight with a chaotic transfer in Mumbai (don't get me started on that!!) a day doing nothing was just what was needed.
Margot had other ideas. After she and Heinz had lunched (obviously they hadn't been as well-stuffed on Etihad as we had been on Jet Airways) she decided that a boat trip was necessary, in order to explore the Dutch Canal that her German guidebook recommended. My heart sank. Last thing I needed was to be hauled onto a boat and dragged down some smelly old canal. But Margot persisted and managed to secure a fishing boat with an outboard motor at considerably lower cost than the hotel had offered. The boat's proprietors promised us plenty of bird life en route, so Pam and I allowed ourselves to be torn from our stupor. We donned life-jackets (mine was a child's and wouldn't fasten), clambered on board and set out to sea, together with the captain and his crew – a lad of around sixteen.
The boat and its crew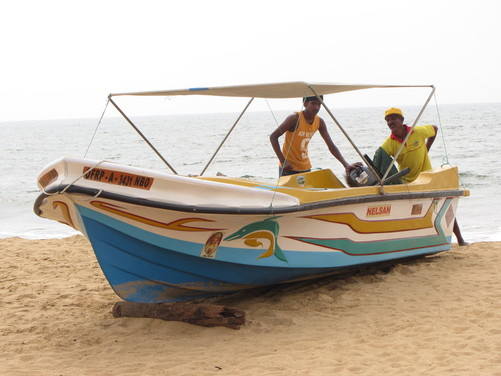 We didn't get far. Just far enough away from land to feel uncomfortable when the engine died. For too many heart-stopping moments we bobbed around on the not-insignificant waves, drifting further out to sea. The only wave that mattered was the wave of relief that I'm sure passed through us all, when, finally, the outboard sprang back into life and we headed off at some speed over the water. We traced the coast north for some twenty minutes and then turned inland and entered the mouth of the Dutch canal.
It was not what I expected. Apart from the lack of current it could just as well have been a river. The boatman's promise had not been an exaggeration, far from it. What a stunning start to our holiday. Here is just some of the scenery and some of the wildlife we spotted on our trip up the canal.
The view from the boat as the canal broadens out.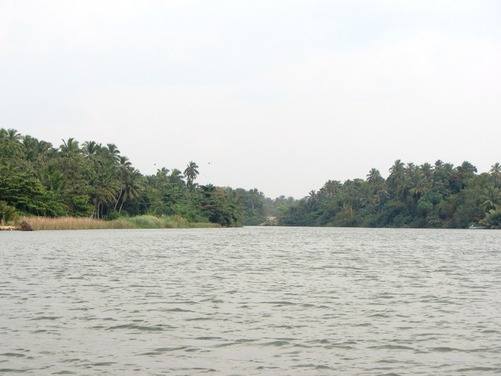 A little green heron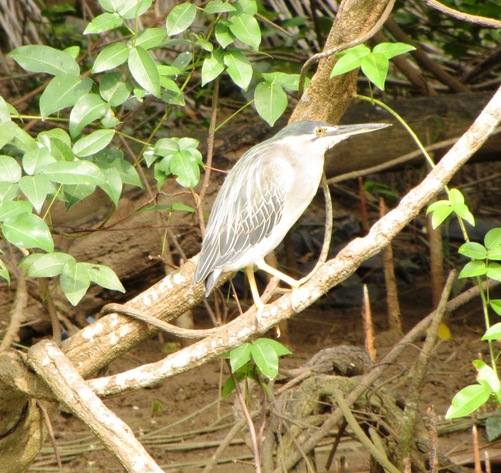 A common kingfisher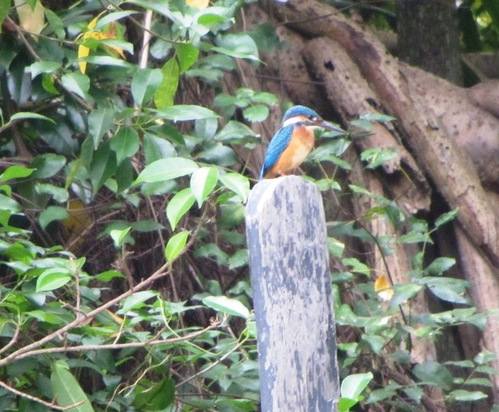 A white-breasted kingfisher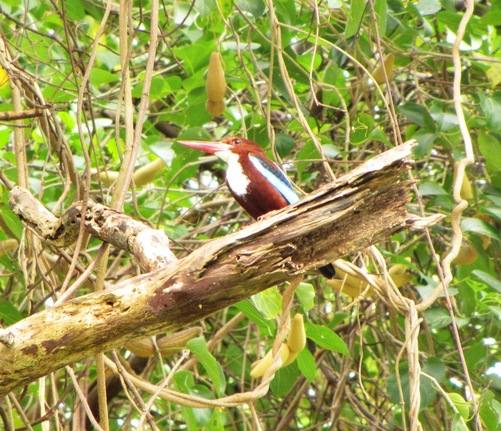 A pied kingfisher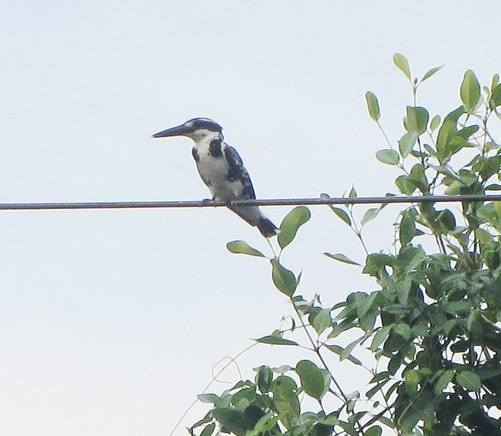 A swimming kabaragoya (water monitor)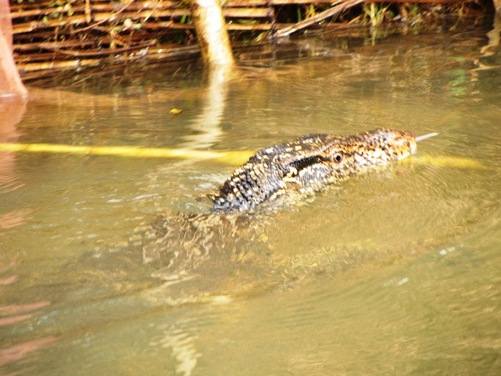 A resting kabaragoya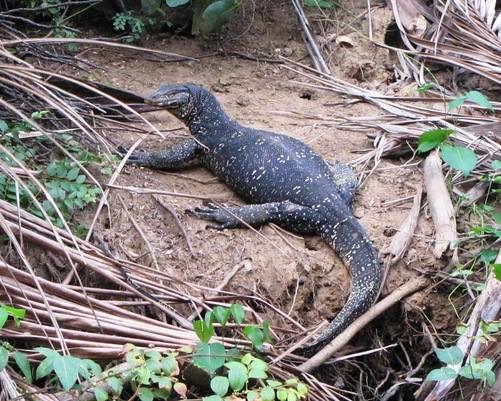 Two friends strolling on the bank beneath the mangroves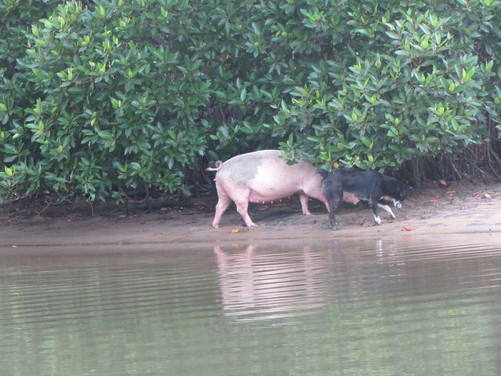 The young crew member rescued an injured blue rock pigeon and cradled it gently in one hand all the way back. He would take it to his uncle who has the equivalent of a pigeon loft.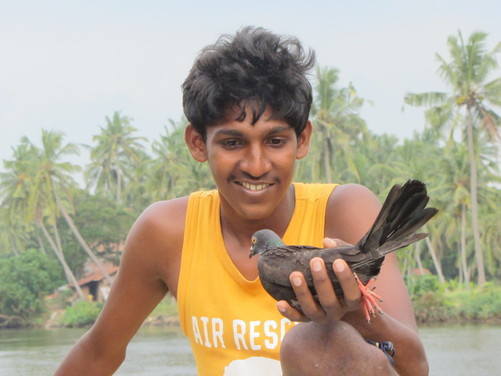 Altogether it was a magical ride and a promising start to our tour of Sri Lanka.