ROUSED FROM INERTIA
Posted on
It's a truism that you only really get to know the area you live in, when you have to show it off to visitors. And even if you do know your surroundings thoroughly, the temptation (for me at least) at this time of the year is to stay in and not to commune with nature.
Thus it was the arrival of a young guest from Holland, son of Dutch friends, who visited me yesterday that forced me out of my semi-seclusion. I'd deliberated for some time on what I could usefully show him in half a day. What would interest a young man in his twenties? His father is mad on gardens so I hoped it had rubbed off on the son. Thankfully he was most enthusiastic about my suggestion to take him to Wisley and have a spot of lunch there, then let time and weather guide us for the rest of the afternoon.
We spent two hours at Wisley, which, as always, was beautiful, a little bleak, but still putting on a show of autumn finery.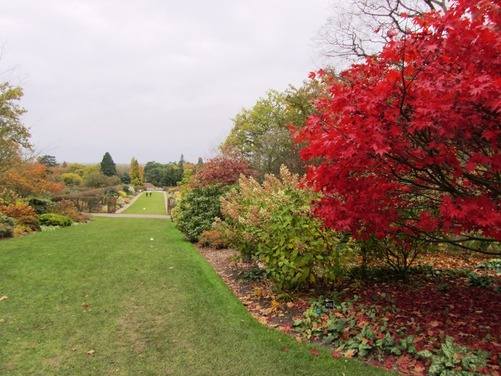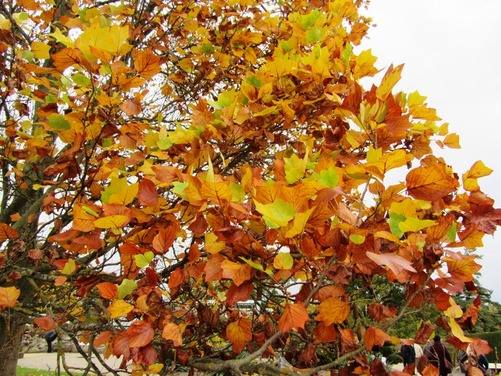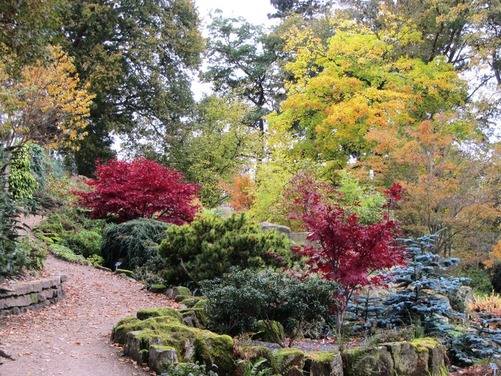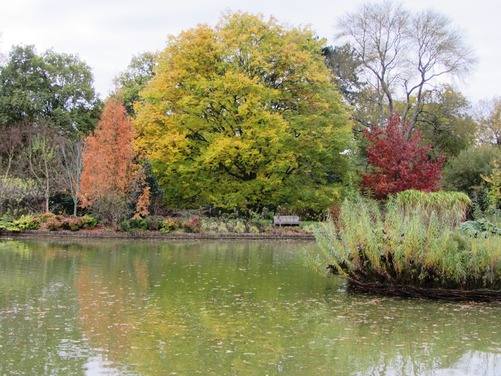 It was only 2 pm by the time we left and I decided it was time for a little local culture, and since we were already on the A3, it would be easy to nip down to the village of Compton and take a look at the Watts Memorial Chapel. This exquisite little Arts and Crafts gem was constructed by Mary Watts, wife of the painter George Watts, who lived locally. The exterior is richly and organically ornamented with terracotta brickwork designs. The interior is a swirling riot of splendour depicting heaven and earth in an orgy of art nouveau plaster decoration, the colours and gold coming into vision as you get used to the narrow window slits.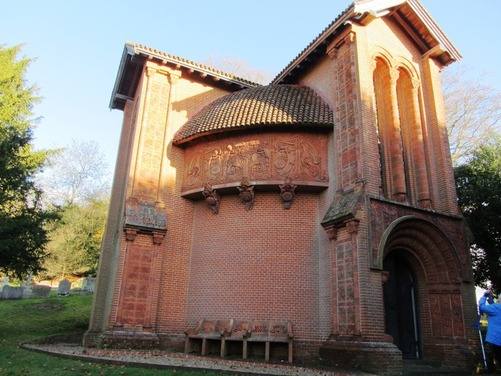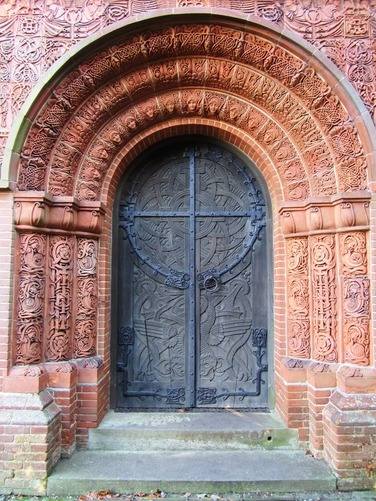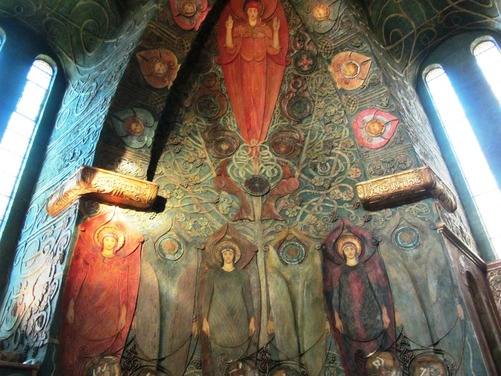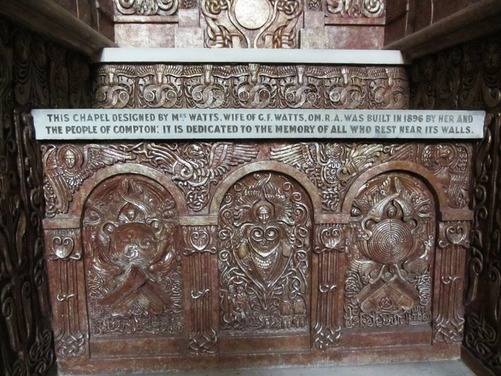 From Compton we headed home for tea, stopping off at Newlands Corner, so that I could show my guest the stupendous views of the Downs. On a clear day the sea is supposed to be visible through a gap in the South Downs, but not today. In anycase the sun, which had made a belated appearance low in the sky, was not being very cooperative, blinding us as we looked south-east. But the views were still beautiful.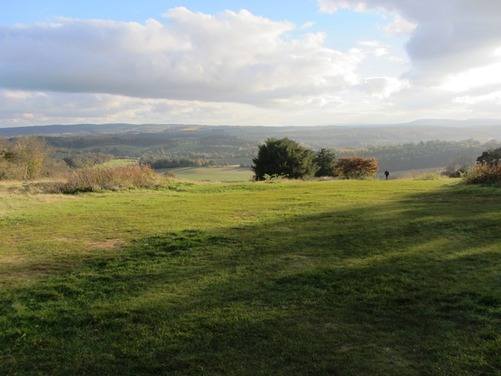 After tea there was just time for a short tour of Guildford before the town was plunged into night. No visitor should depart without seeing our famous cobbled High Street with its iconic 17th century Guildhall clock, the emblem of the town. I also pointed out the Abbot's Hospital, still a home for the needy folk of the town, as it was when it was opened in 1619.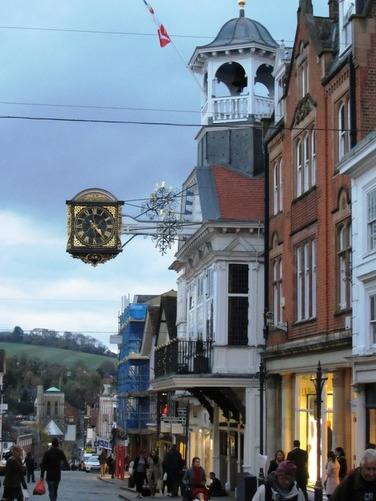 The 13th century castle keep was impressive in the half light. I even managed to point out 'The Chestnuts', the house where Lewis Carroll died in 1898, when he was staying with his six unmarried sisters, for whom he had bought the house many years earlier.
The Guildford museum was still open – just - so we popped in out of the cold. It's well worth a visit if you're in town. I'm always surprised at how many bits of the town's Saxon past have been unearthed, as well as later stuff. There are some really nice English and Dutch Delft tiles too – fitting, because my young visitor lives in Delft.
At the end of the day I was most grateful to the young man – not only because of the divine Old Amsterdam cheese he'd brought along (a gift to me from his mother) but also because he had dragged me out of my stupor and reacquainted me with my beautiful surroundings. And because he was a very charming guest.
Necessity being the nemesis of idleness, there was no alternative but to head out again today as Joanna announced that we were out of fish food and I added that the cat could do with a top-up of cod liver oil tablets (He's addicted to the things, and since he's had his two-a-day the difference in his fur has to be seen to be believed. The scrawny scrappy wreck has turned into a cuddly softy worthy of Steiff). Since Squires Garden Centre has both an aquatic section and a pet store, we headed out along the Epsom Road this morning. Mission accomplished we decided to stop off at Sainsburys in Burpham on the way back. Our route took us through lovely wooded areas. I tried some shots through rain-streaked windows, hence the occasional blurs. Just thought I'd remind you all that Surrey is beautiful!