LAST AND LASTING IMPRESSIONS OF BURMA
Posted on
Tweet So I've been away to Luxembourg and to Germany. Now I'm coming back to Burma, be it briefly, just to round things off.
You see my idea of holiday heaven is NOT sitting around on a beach all day. But 4 nights on the edge of the Bay of Bengal was part of the package, so we had to go along with it, unaware that this would prove to be perhaps the most magical part of the whole tour. All i knew was that a day or two taking in easy at the end of our tour would probably be welcome, and swimming in warm waters DOES count as a heavenly experience. In any case, no-one is forced to spend 8 hours on the beach. There would be villages to explore and pagodas to discover.
We flew from Pagan to Thandwe Airport in the Rhakine, previously Arakanese, territory of Burma. Rhakine Buddhists make up the main population, but there is a large Muslim minority, known as the Rohingya, reputedly consisting of, or at least boosted by immigrants from neighbouring Bangladesh.
At tiny Thandwe airport – more of an airstrip really - we went through passport control, as we were entering a different state. At the end of the runway was this wrapped-up plane. Had Christo been here? The men in our party had no hesitation in photographing this phenomenon. People have been arrested in Greece for photographing planes. I was scared to death – but I snapped a quick picture anyway.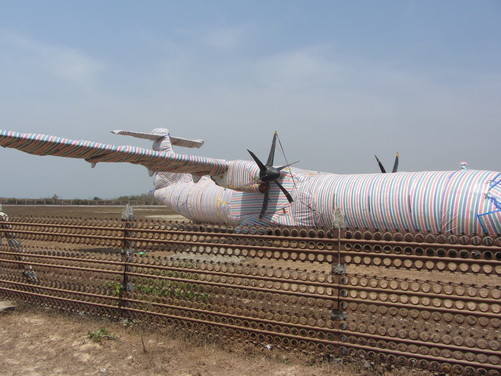 Ngapali Beach resort was a couple of kilometres down the road. The resort was stunning, the sea beautiful, the palm-fringed, pale sand beach stretched for miles with not a soul on it apart from the few guests at the resort and some local fishermen and vendors. Across the road behind the hotel, the last few tantalising buildings heralded a small village that begged for closer inspection.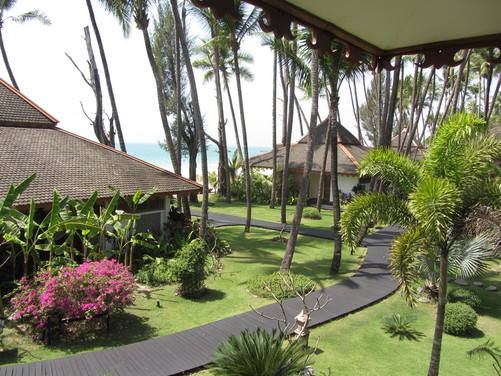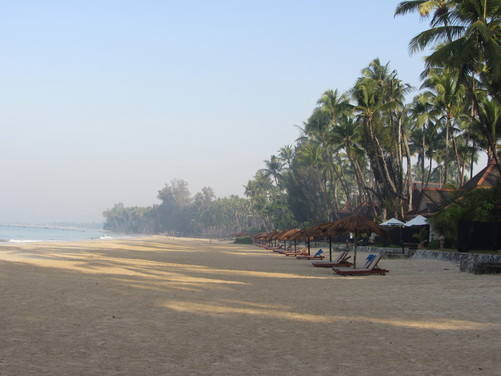 Among the other guests was a group of teenagers under the umbrella of the charity World Vision, who, according to their banner, were commemorating the terrible cyclone Nargis of 2009, which resulted in more than 138,000 fatalities throughout Burma. Whether these youngsters were themselves survivors of this disaster was not clear, but they were polite and charming and we had fun swimming with them and joining in their water sports (which invlved tyres and lots of waves). One thing disturbed me, however. The singing from their after-dinner gatherings in one of the public rooms was invariably Christian gospel-type hyped-up hymn singing. No getting away from a somehow unsavoury missionary element to this enterprise.
The beach and the sea occupied a couple of hours daily. After that restlessness drove me further afield. Eight of us hired a couple of run-down wooden tub-boats to head off to an island, which they called 'Pearl Island.' Still bruised and in pain from my fall at Heho I had to make the decision – do I opt for the larger tub, which had seats with rudimentary backs, but would require considerable acrobatic embarkation skill (no such luxury as a ladder here – you had to vault over the side), or do I go for the smaller one, which had backless bench seats but lower sides?
Later I was glad I had decided on the larger craft, in spite of raised blood pressure whenever I had to get back into it, because we hit some alarmingly turbulent seas on the way back, and the four in the little boat spent the whole journey of around an hour baling out, with the water coming in as fast as they were removing it.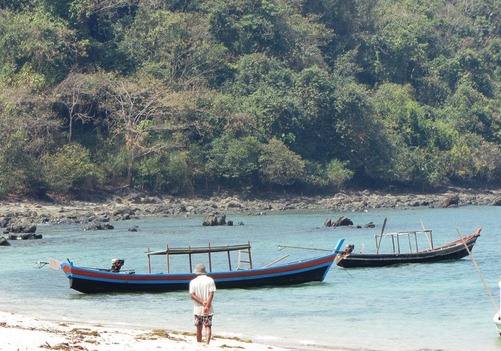 In spite of these minor problems it was a good trip. Before we headed right out to sea, we passed a small port, where watched an attempt to haul a decrepit fishing boat out of the water using a team of water buffalo. Pearl Island was a small outcrop in the sea of rocks and sand. We snorkelled in the warm, still waters and feasted on tiger prawns before we headed back to Ngapali on stormy seas.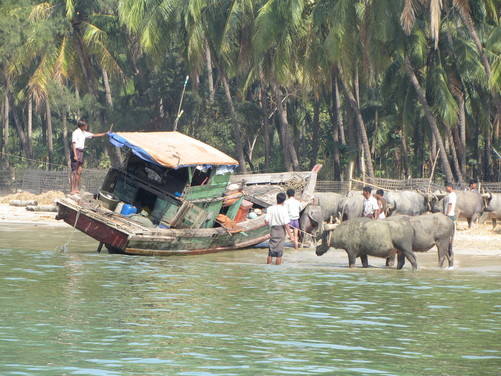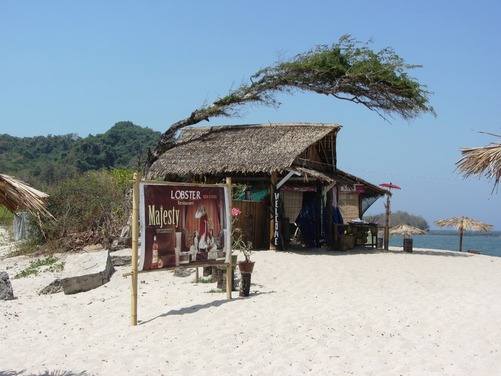 The urge to explore was fed by loud, raucous music that drifted over from the village across the sand-strewn road, in an unceasing stream for the whole of one night. It continued the following morning, and someone told us the village was holding a festival. So, Pat and I decided to find the source of the music. We soon found ourselves a hundred years away from our plush modern resort.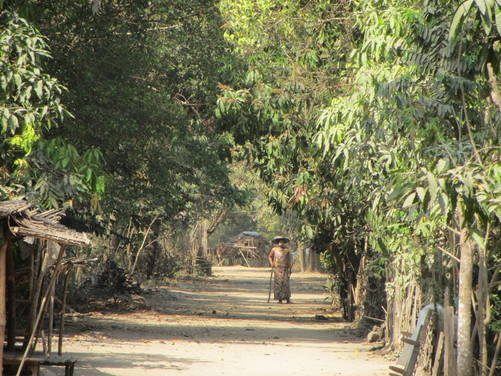 We stepped back in time into sleepy lanes, neat little rush-walled houses in fenced-in gardens, an open-fronted village shop – and the inevitable monastery, where we ran the music to ground. Here, in the monastery garden a beauty competition was in full swing. We watched through the fence until we were spotted and hauled inside. A couple of chairs materialised and we were invited to sit and view the proceedings in comfort. The participants were all little girls - aged from around six to twelve as far as I could make out. Each one in turn sashayed around the makeshift catwalk – a sandy path around the courtyard, while the music bellowed out from an old loudspeaker attached to the monastery building and the monks and other judges watched gravely, making notes. We stayed for a while and then slipped away. A very odd experience.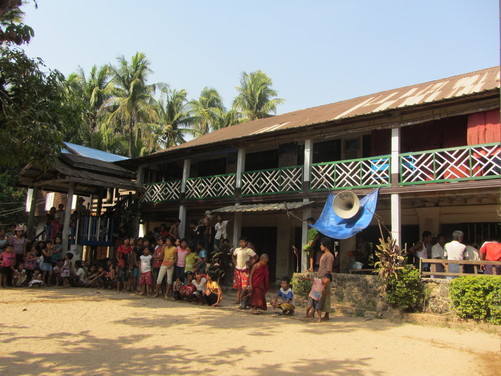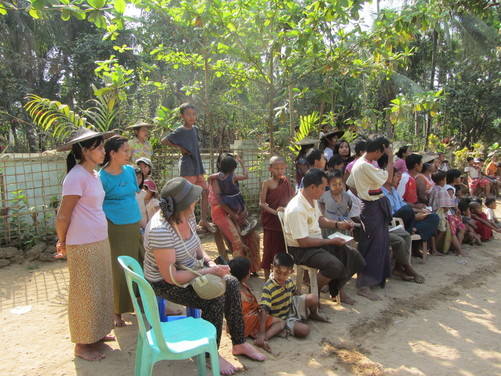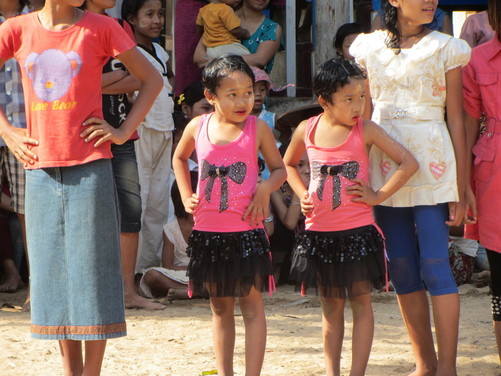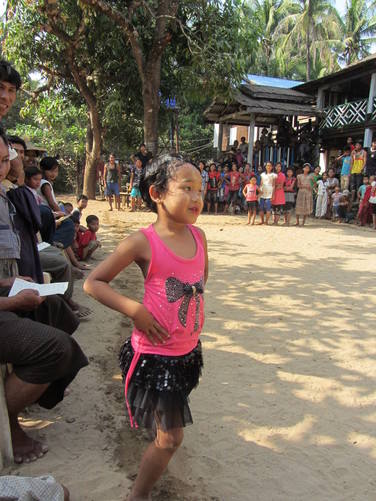 I visited the village a couple of times more. Struck the first time by the cleanliness of the streets and gardens, I subsequently discovered why. Taking another path back out to the road, I had to cross a wide, moat-like stream. All the village rubbish had been dumped there. It stank to high Heaven – a gas mask would have been appropriate. Clearly there was no sanitation, no rubbish collection and no attempt to use recyclable materials. What a contrast to the exclusive resort where we were staying. I wondered if our rubbish also ended up in the village dump.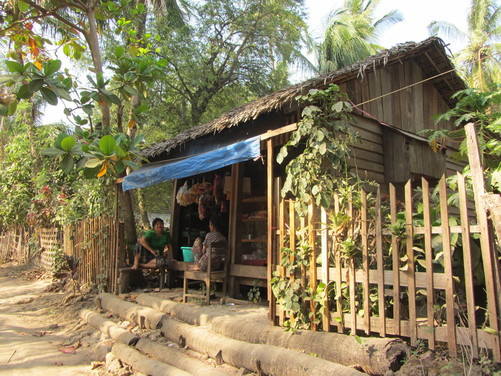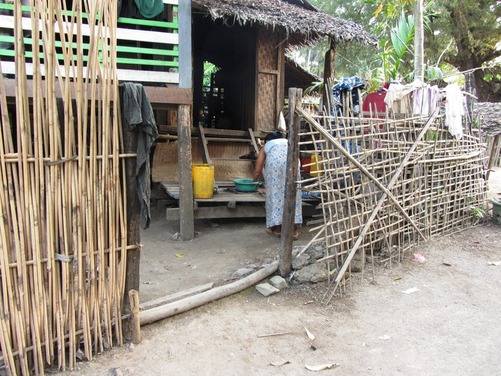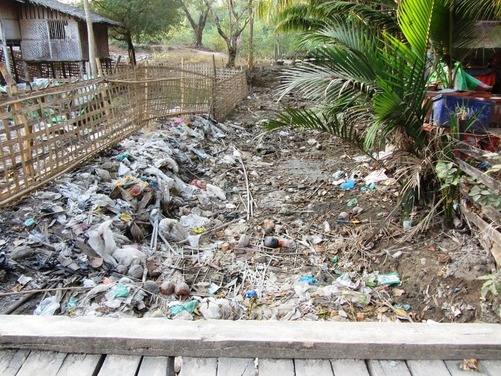 On the last morning I got up early , made my way through the gradually- stirring village and climbed up to the local pagoda. The view – jungle, ocean, village and the awakening morning was magical. A fitting way to end our stay in Burma.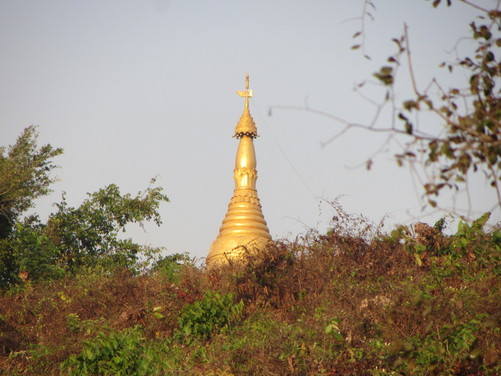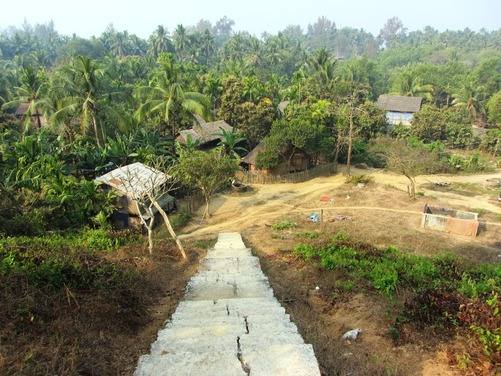 A few more impressions of Thandwe area: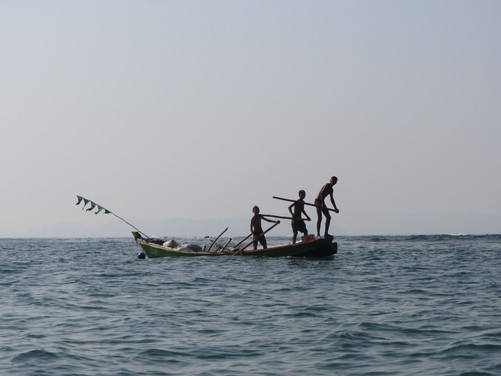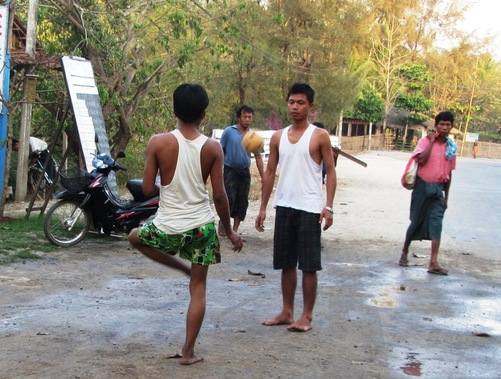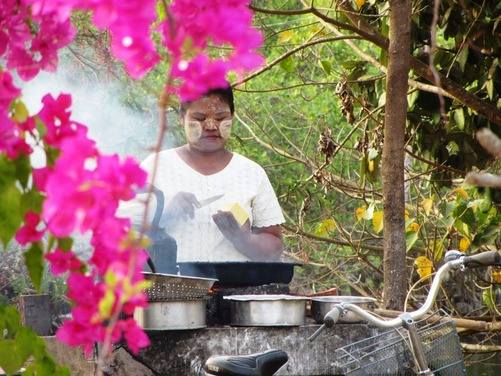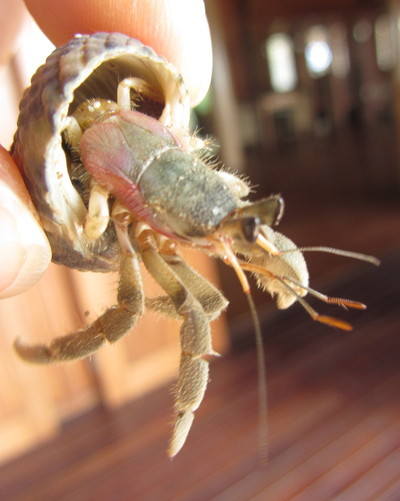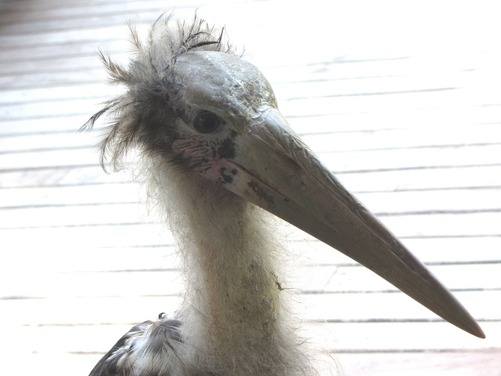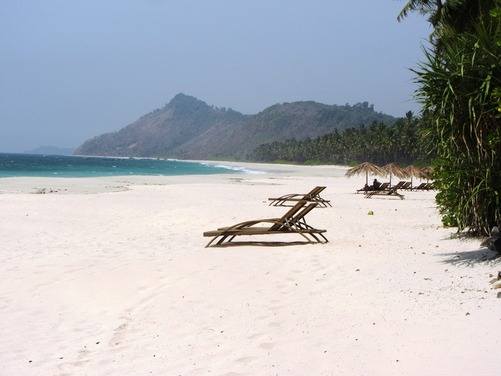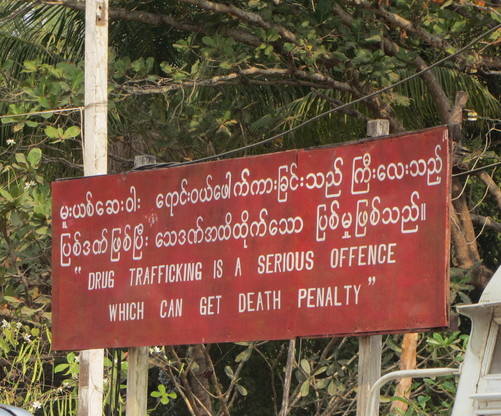 As a post-script, I'm sad to say that in April this year trouble flared up between the Buddhist Rhakine people and the Muslim Rohingyas of the state. Bloodshed, rape, looting – in short, all the horrors of sectarian violence have been the result. With 75,0000 displaced people and hundreds of deaths it appears Rhakine State is now out of bounds, in spite of a recent 'fragile calm'. An acquaintance, scheduled to visit Burma later this year, has told me that their tour has been altered to avoid the area.