FATHER RHINE AND MOTHER MOSELLE
Posted on
Tweet The gorgeous little Moselle town of Cochem is only an hour and a half from Luxembourg by train. And Cochem is a mere 28 Km from Mayen, a somewhat larger town in the Eifel Mountains . Mayen is the twin town of Godalming in Surrey, and as the German teacher at one of its secondary schools in the 1980s, I had my arm twisted, way back in 1982, to start a school exchange between the two towns.
And the rest is history. Mayen has now become a kind of home from home, and my erstwhile exchange teachers, Heinz and Margot, as well as Axel, the young Mayener who became my penultimate German assistant, extended family.
Of course those aren't their real names. I changed them (for purposes of self-preservation) though I was confident that they would not find their way to my blog. How wrong can you be! Axel not only tracked me down, but then managed to direct Heinz and Margot to my website, during the very week that I had given them a starring role (marginally disguised) in my Burma blog. Let this be a lesson to all writers who adhere to the old adage that people never recognise themselves when you base your characters on them. They do!!
So it was with some trepidation that I alighted from the train in Cochem. Would they exact revenge? What terrors lay in store for me? Would there be a repeat of the time that they forced me onto a strange bicycle that you had to pedal backwards to stop, and made me cycle all the way along the River Lahn to Bad Ems without even the benefit of bikers' knickers? Or would they once again drag me up a mountain path, ignoring the minor problem that the path no longer existed so we had to strike out across slippery rocks, hauling ourselves up on saplings, eventually ending up in a farmer's field and narrowly avoiding Death by Combined Harvester?
So how do you make sure your guest is putty in your hands? First get her thoroughly rat-arsed. Head off to the nearest wine village as soon as she arrives. Instead of going straight back to Mayen from Cochem, we diverted via Winningen, a picturesque wine village on the Moselle (everything in this area is picturesque, as it happens).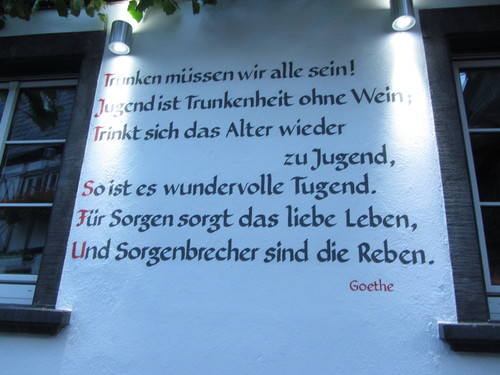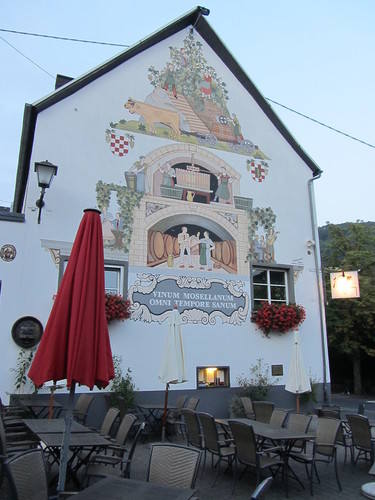 By the time we got home I'd been softened up. During the following days regular top-ups of the local tipple (Rhine and Moselle wines from the best vineyards – H and M don't drink plonk) ensured that I was incapable of adding any juicy morsels to my blog while I was there. Incapable, in fact, of putting my mind to anything other than the sheer bliss of being in a beautiful place amongst good friends, enjoying excellent cuisine and superb wines. Of course the subtle attempts to punish me did not go unnoticed. Was it really by accident that we took the long, climbing path to Burg Stolzenfels on the Rhine instead of the short, direct route?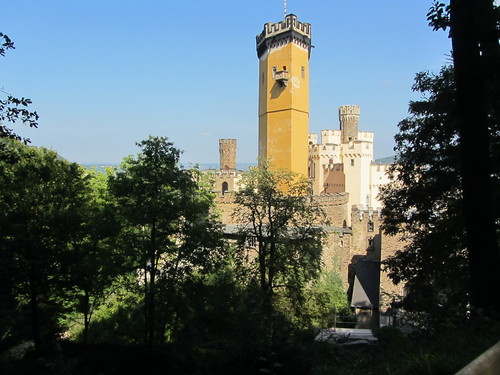 The castle has recently been revamped. It houses, among other things, a beautiful painted chapel and some Italianate gardens set around fountains.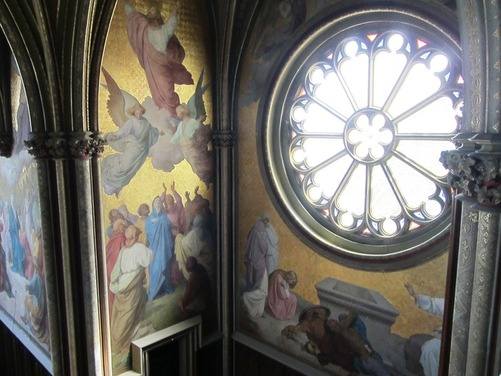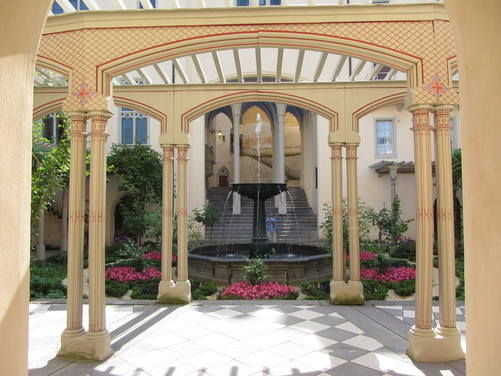 The hike through the Eifel Mountains in the warmth of a golden evening started off innocently enough, lovely gentle ramble through heather and erika-emblazoned meadows, scattered Juniper trees and carpets of real wild bilberry bushes. The views were wonderful and the light spectacular.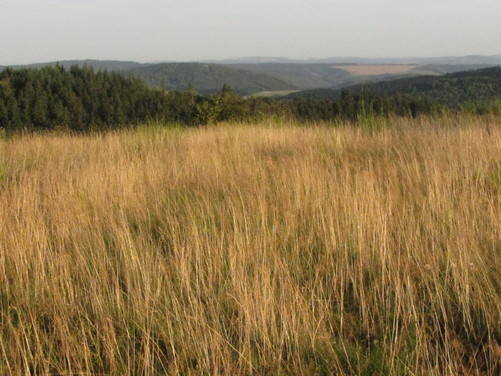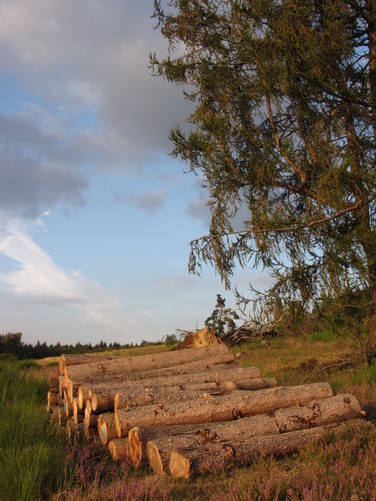 Just as I was lowering my guard, my intrepid hosts veered off the path and headed through the undergrowth into the deep, dark forest. I followed gamely, ignoring the stinging nettles and brambles that were making mincemeat of my legs. I took my punishment like a woman!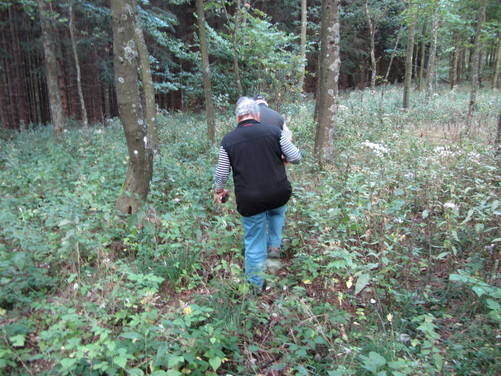 If you are as old as I am, you probably also watched the German series 'Heimat' written and directed by Edgar Reitz in the 1980s, and since extended.
The setting for the series is the Hunsrück area of the Rhineland, which is very near Mayen and the Moselle Valley. I loved the first series – something deep within me connected to it – maybe tales my mother told about her childhood visits to her uncle in rural Germany in the early 20th century – albeit in the east, rather than the west. The villages and people felt familiar to me, as though I was revisiting part of my past.
The Günderodehaus set high above the town of Oberwesel on the Rhine, was used as a venue in the film. Now it is a rustic café with spectacular views. The menu is limited but the coffee is served in mammoth cups and I gather the wine is excellent – note, I stuck to coffee on this occasion – it went better with the cake!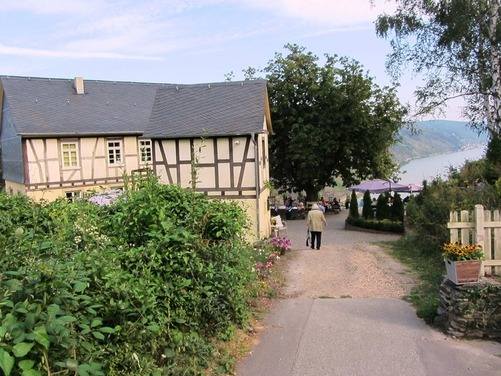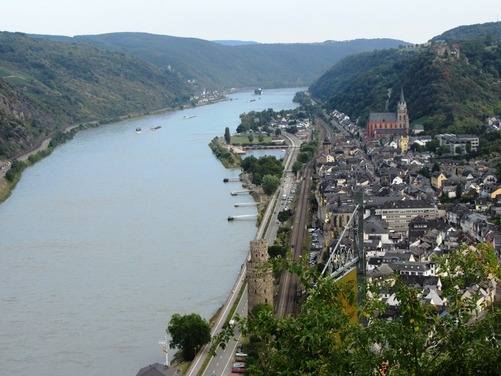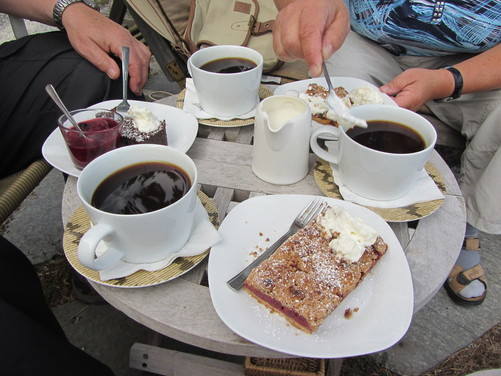 It took some persuasion to convince mein Hosts that a walk into Mayen town centre would be a good way to spend a few hours. It may be boringly familiar to those who live there, but it's a good two years since I last saw it and I wanted to say hallo. Margot suggested that we should look at the recently opened slate mine in the museum at the Genovevaburg, the castle at the end of the Marktplatz that overhangs the pretty town. If you're ever n Mayen, it's worth a visit, a most impressive network of tunnels deep under the castle, with a plethora of activities and displays about one of Europe's largest mines. The views from the top of the castle are wonderful too.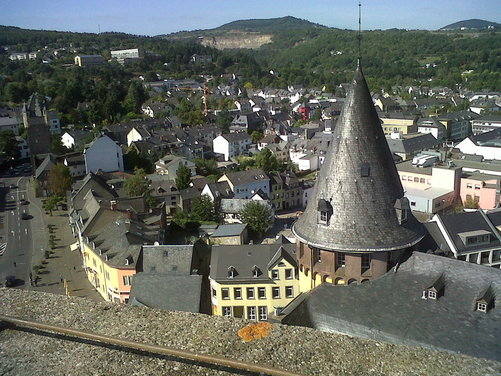 My stay in Germany ended with a return to Cochem to catch the evening train back to Luxemburg. Axel drove us all back to Cochem where we started the day with a one-hour boat trip on the Moselle.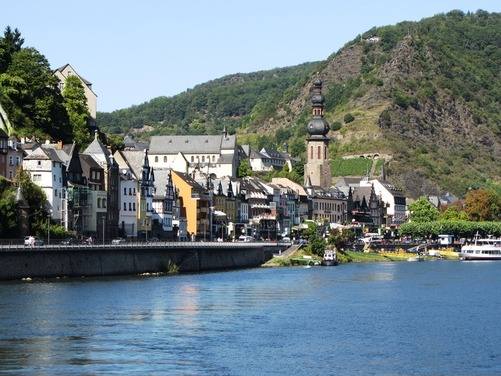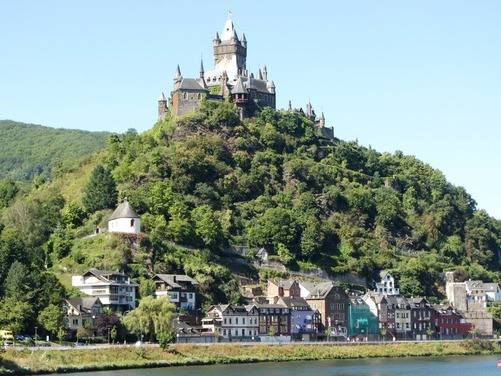 After this we headed to Beilstein a little way down on the other bank of river. It's one of those picture-book villages, surrounded by steep-sided slopes festooned with neat stripes of grape vines, bulging with bunches of fruit at this time of year. Beilstein is so sleepy that they don't have an ATM and refused to accept my new RBS Visa Debit card when I insisted on treating everyone to lunch No EC sign on the back therefore can't be genuine. As for credit cards – they didn't accept these at all. In other circumstances I would have died with embarrassment, since Heinz had to fork out for the bill. Luckily they know me well enough to realise I hadn't engineered the situation.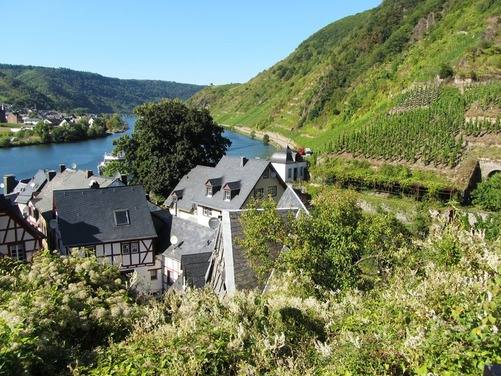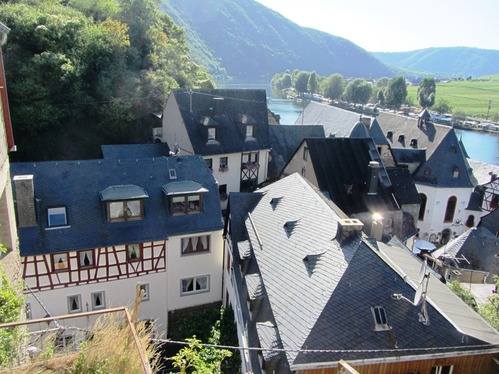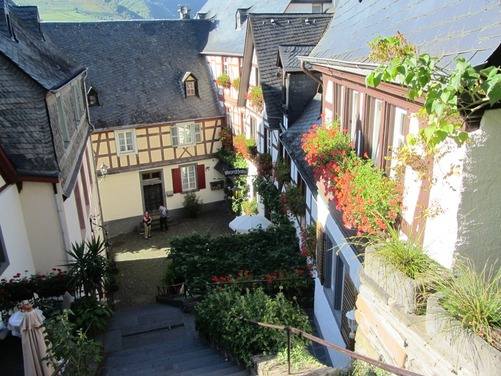 A corollary to this – I wrote to RBS when I got back insisting that they provide me with a card that was acceptable anywhere on the continent. Today I received a reply, rejecting my complaint because 'Germany is a known hotspot where there are quite a few retailers who only accept domestic cards or cards issued in Europe under the EuroCard brand' but acknowledging that 'you will have been caused some embarrassment when you were unable to use your card in the restaurant' and adding that they had credited my account with £25 'as a good will gesture'. The lesson is – never take things lying down. If you have an issue, make your feelings known.
And the toilet-roll holder in the restaurant in Beilstein proved that the Germans DO have a sense of humour (doesn't it?)