I'm breaking into my Burma blog and my summer silence as quite clearly an event as monumental as that which has taken place over the last couple of weeks can't be allowed to pass unremarked upon – even by those of us whose sporting days are long since past.
I hated sport at school. In races I was inevitably the last. In gymnastics I inevitably fell over. Sports days were to be dreaded and avoided if at all possible. When, at the age of 13, I moved house with my parents, I had to switch schools, swopping my good, solid no-airs-and-graces comprehensive in Walsall for a snooty, nose-in-the air grammar school in Lichfield. And with the swop came Lacrosse. I was usually the one left out at the end after the team captains had chosen their sides (they'd seen me in action) so I ended up in goal. Nobody wanted me as goalie either – I let all the balls in. Netball was no better. I couldn't even catch the ball. Sports days were worse than exams.
But to be fair to myself, I wasn't completely devoid of sporting talent. I've always enjoyed swimming and horse-riding (as a teenager I had my own pony).
I generally don't watch sport. I don't understand rugby or cricket. League football generally leaves me cold. It's only (obscenely rich) grown men playing a game, for heaven's sake. Its place in the scheme of things has grown out of all proportion. Golf is absurd. Getting worked up about flicking a little ball around, I ask you! As for tennis – better keep stumm on that one!
But the Olympics – that's different. When, as a child, my Berliner parents took me to see the Berlin Olympic Stadium , where in 1936 Jesse Owens trashed Hitler's notion of the superior 'Aryan race' , the Olympics gripped my attention and have never let go their grip.
There's a wonderful paradox about the Olympics. Nations compete fiercely with one another, and yet in the end, it's the individuals we remember more than their nationality. In spite of all the battles, this is not a war, rather, we hope, a promoter of peace. Of course we're thrilled when Team GB does well, and we take an enormous pride in our athletes and in the fabulous Games that London has staged. But if we pan out and look at the event from a wider perspective, what a celebration of universal brother – and sisterhood it has been. Even within Team GB the multi-ethnic mix has been a reason to celebrate, showcasing as it does, all that makes Britain a good country to live in.
I was lucky enough to witness first hand some of the Olympic events. I've had to pick and choose from my hundreds of snaps so I've tried to keep it idiosyncratic!
First Event – 82-year-old Austin Playfoot, who was also a torchbearer in 1948, lights the last cauldron before London in Guildford's Stoke Park.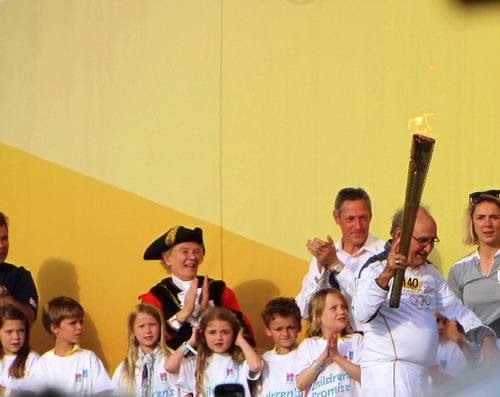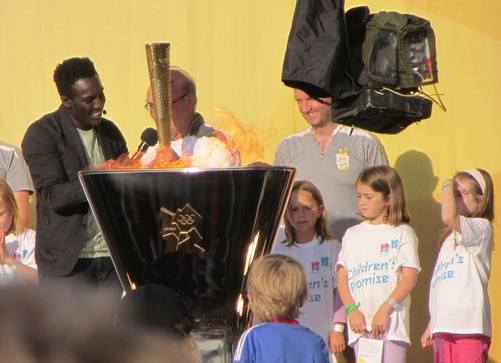 Second Event: the Cycle Road Race passes through Ripley. We had to walk a couple of miles to get here, but it was worth every minute. The atmosphere among the spectators was a sheer joy. The cyclists passing through were like a many-coloured meteor with the blue and white of Froome, Wiggins, Cavendish, Stannard and Millar nicely spaced at the head of the peloton. Pity about the result. I felt so bad for Cav, despite the fact that the French apparently love him as 'the bad boy of cycling'. Delighted that Wiggo won the time trial though. Ever since watching him win the Tour de France I've been a fan.
A touch of Patriotic Fervour in Ripley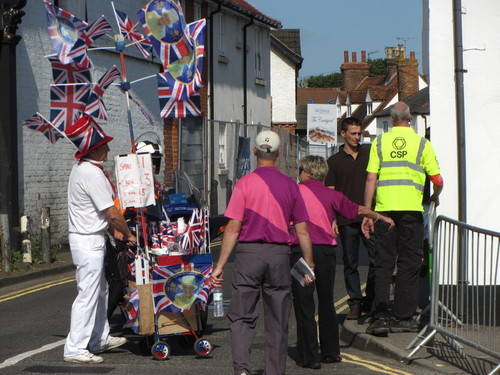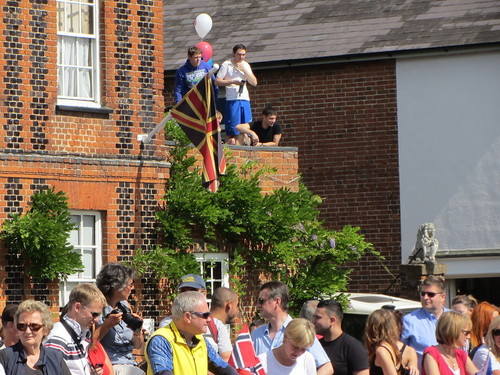 Even YT and JB got in on the act!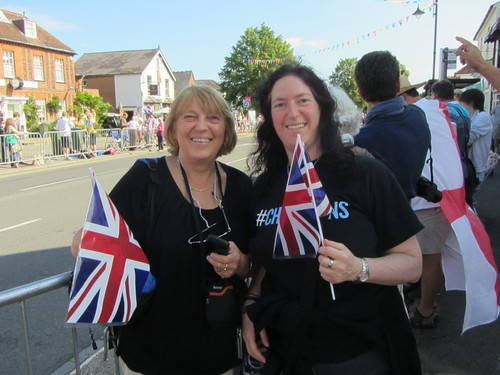 Go Cav! Go Wiggo!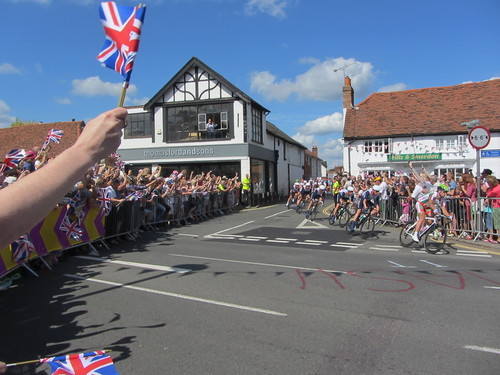 Here comes the Peloton!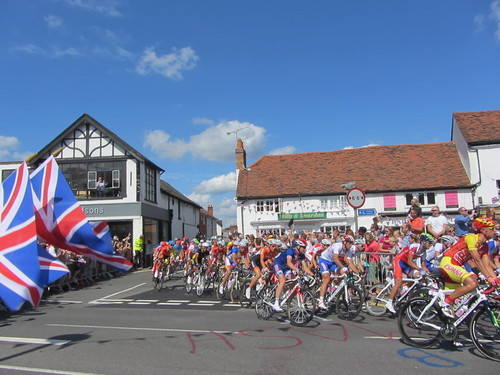 Third Event: Persuaded by persuasive daughter to accompany her to the football quarter-final at Wembley. We had no idea, of course, beforehand, who would be playing, but it turned out to be Mexico vs Senegal. The Senegalese looked splendid, mainly towering over the little Mexicans. But the Mexicans prevailed and won 4-2. Delighted to say they went on to win the gold medal. My first initiation into live footie was a happy one. I enjoyed the atmosphere, the colours and the excitement. The crowd of 81,000 was exemplary and the ordered way they left the stadium and were filtered back onto the tube made me proud to be British.
On the way to Wembley Stadium!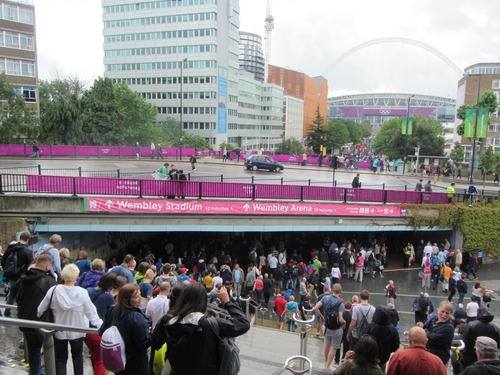 Viva Mexico!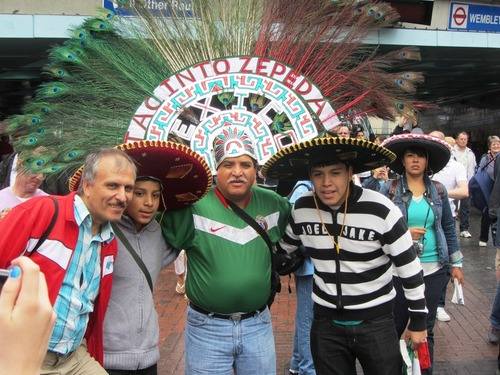 Before the match - Usain on the big screen.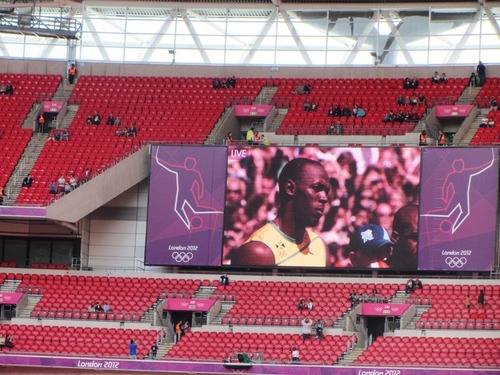 Here comes a Mexican Wave!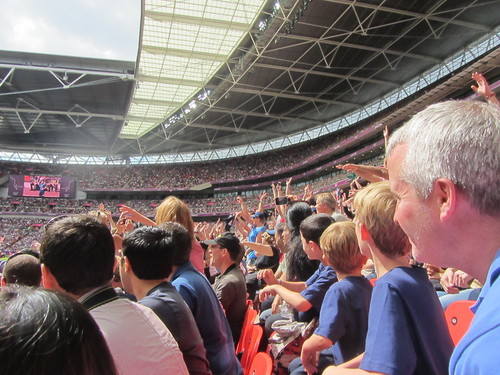 The Senegalese national Anthem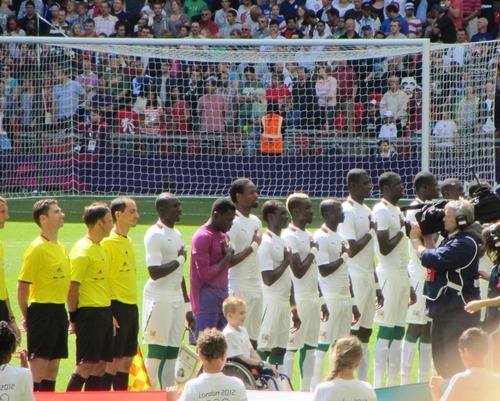 Mexican No. 10 Dos Santos plays for Spurs.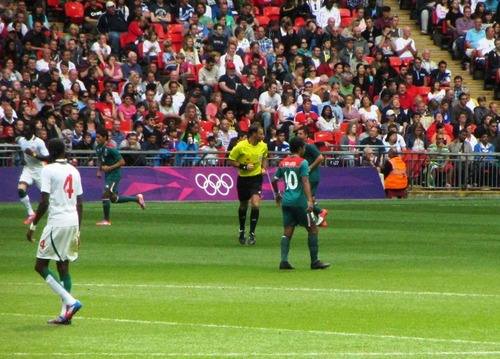 Just a couple of showers to cool us off in the heat. But they didn't dampen anyone's enthusiasm.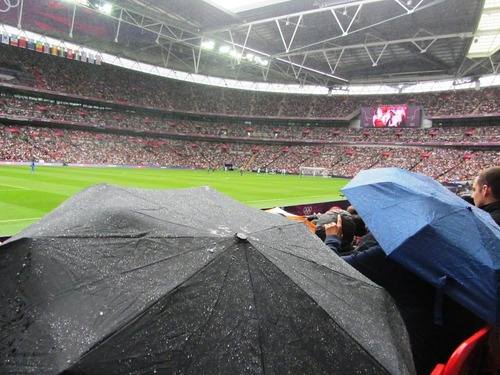 2-2 at Full Time. The Mexicans huddle in conference.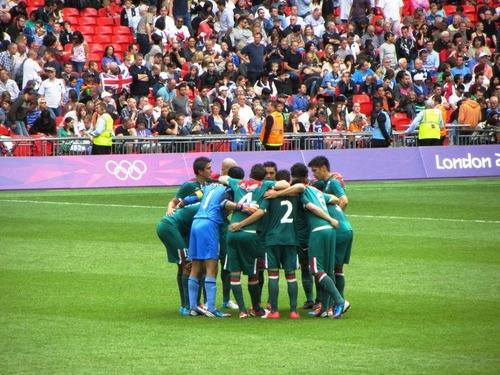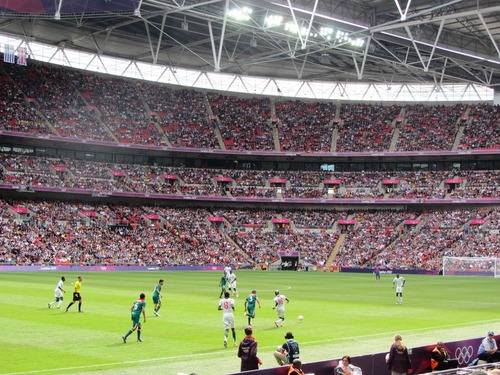 Well done, Mexico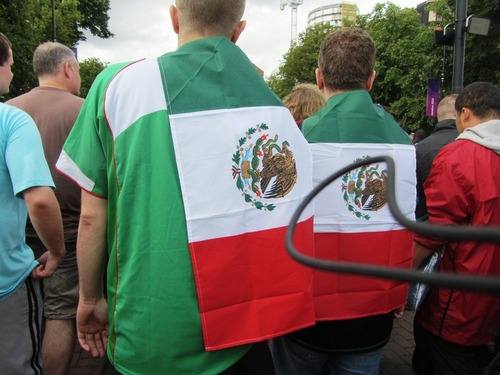 Au revoir, Wembley.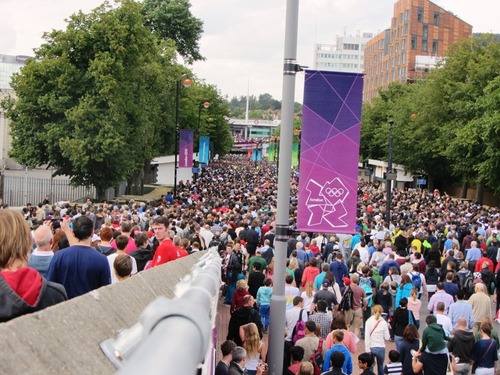 Fourth Event: last minute tickets for two early morning hockey matches on the penultimate day of the games. We snapped up the opportunity to get into the Olympic Park. I'd never seen a hockey match before and it was rather like football with sticks. Again the colours were magnificent and the whole atmosphere brimmed with celebration. Afterwards we had the whole day to explore the Olympic Park before we headed off to the Proms in the evening to hear Berlioz' Requiem. The weather was glorious. The park was extraordinary. I'm not exaggerating when I say I have never, in my whole life, seem such a breath-taking display of flower borders. Nothing formal, just gorgeous annuals, many of them English wild flowers, in drifts along the river banks and walkways. Well done, London. You created paradise.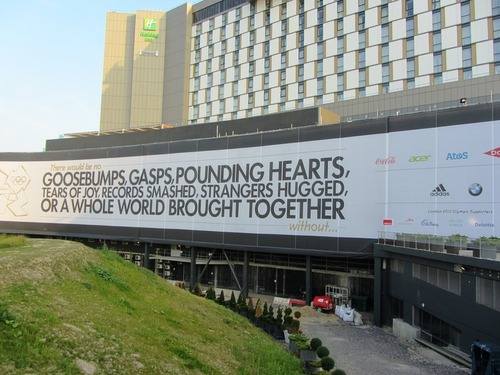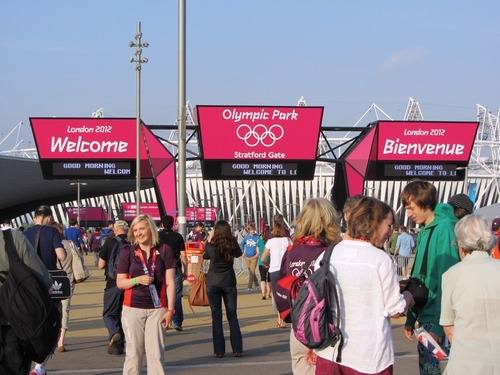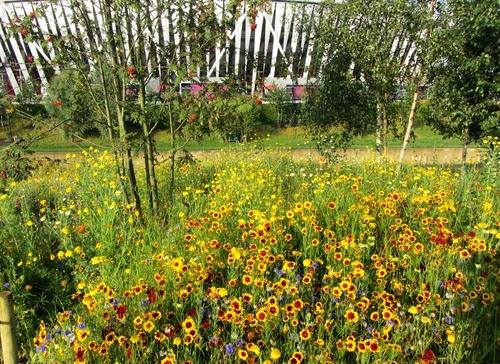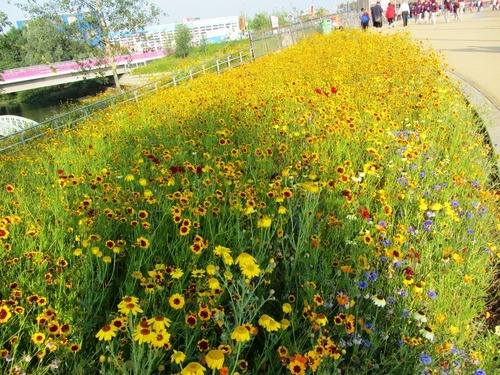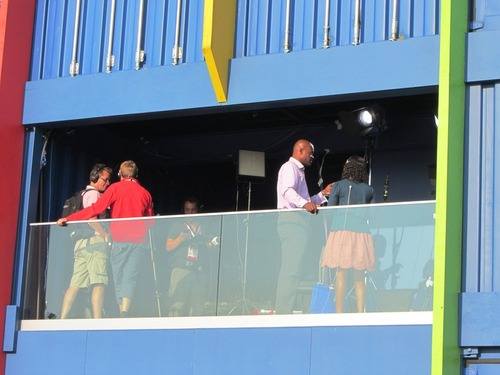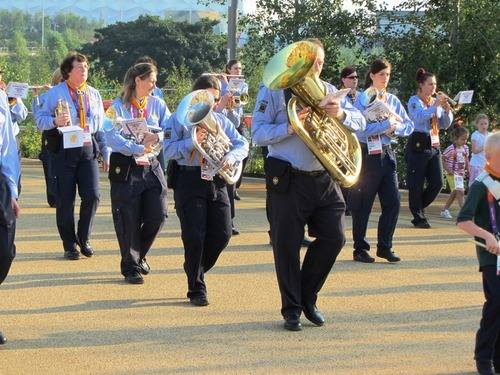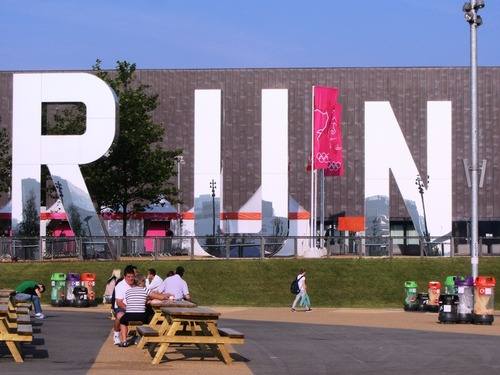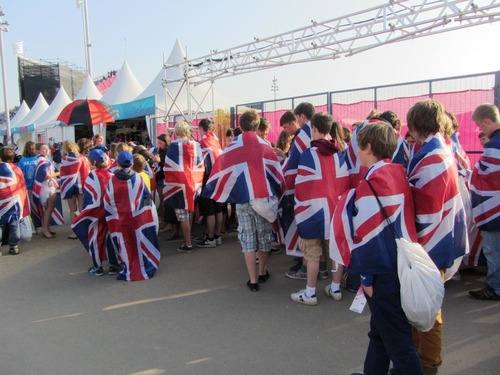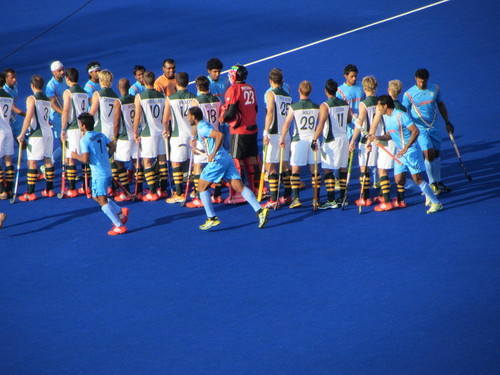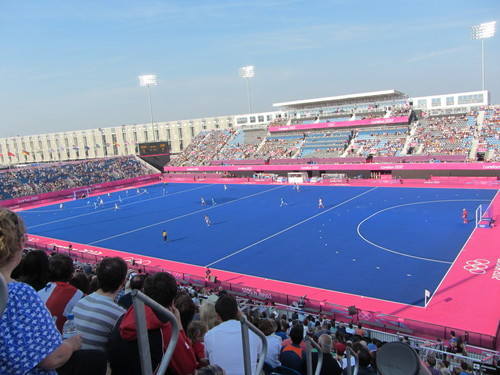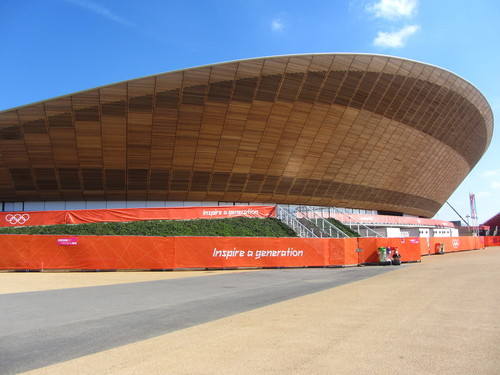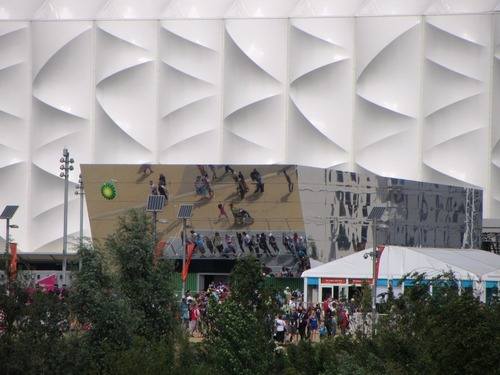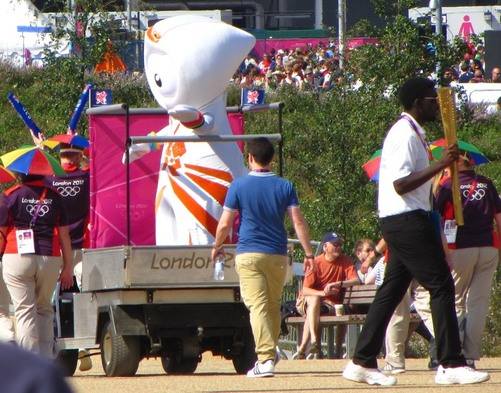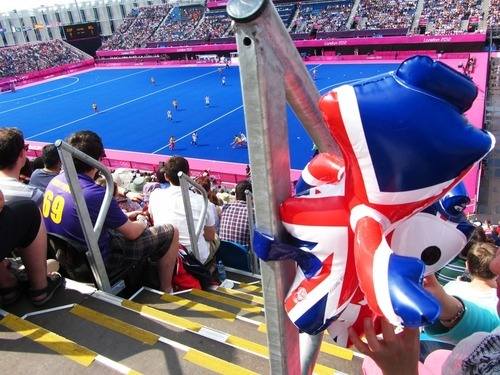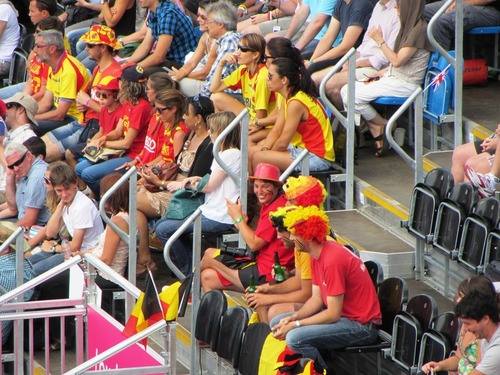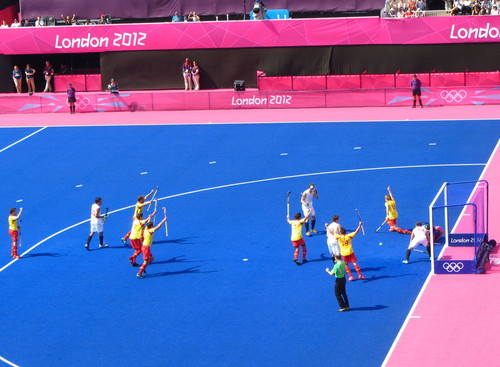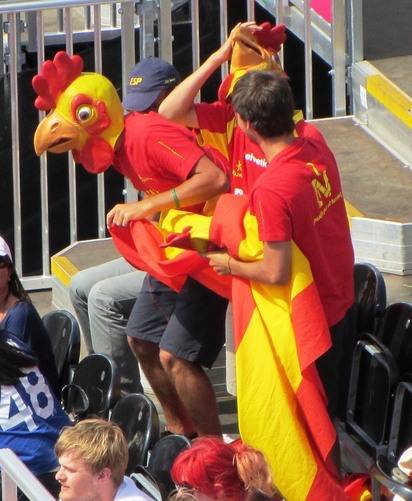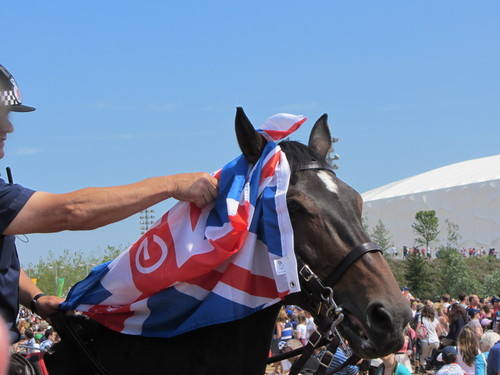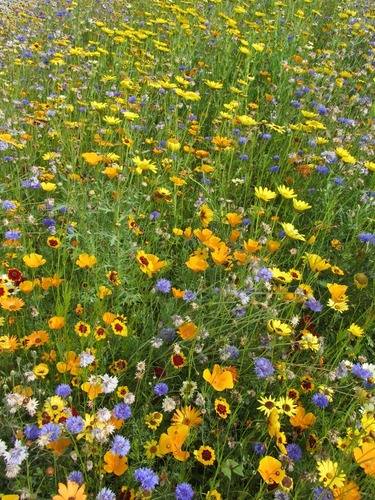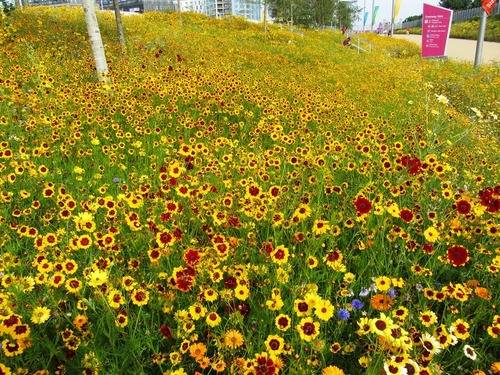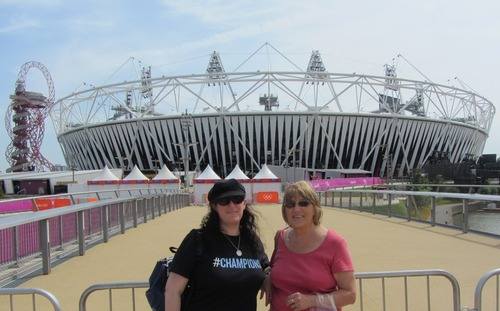 I feel privileged to have seem the park in full bloom, and also some of the amazing sporting events. I don't think I'll be quite so negative about sport in the future!