It's most definitely on the tourist trail but to me it seemed more like voyeurism. Whilst we'd been travelling on the tour-bus in Burma, we had seen several lines of monks, young and old, in their earthy, plum-coloured robes, heading off down side-streets, bowls in hand to beg for their lunch.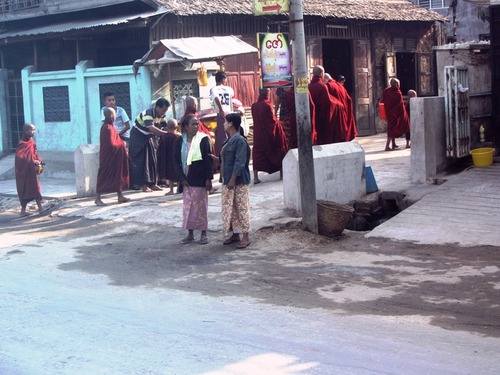 It is considered auspicious across south-east Asia to feed a monk. I remember once in Cambodia, seeing a monk with his food sack standing by the roadside as we drove along some muddy track. Our car, bearing our mixed Thai-English family, pulled up beside him and we all fished around for something to donate – mainly oranges and bananas – which we placed into his sack (being careful not to touch him).
The monks at Mahagandayon monastery in Amarapura, near Mandalay, have turned their lunch time begging ritual into a spectacle. It benefits none of them directly, and, although our guide did give a donation on our behalf, I wonder how many other tours do this. Doubtless, the invasion of their privacy helps along the local tourism industry, and maybe promotes greater understanding of Buddhism, through the sale of their books.

The monastery houses more than a thousand monks, from young novices of seven years to established elders. Almost all boys in Burma are expected to spend a few weeks or months as a monk, after which they can choose to remain or not . There are some, orphans or children from poor families, who enter the monastery on a more permanent basis.
Monks do not eat after midday, taking only breakfast and lunch. At the Mahagandayon Monastery different donors provide the food for their midday meal, which they collect and then eat in their communal dining hall. Tourists are invited to watch the monks lining up and heading off to eat. It is a fascinating and colourful spectacle, though it made me feel very uncomfortable, particularly the insensitive species of tourist who thought nothing of pointing cameras straight into the faces of the young initiates, or standing on the path, in the way, though they had been expressly requested to refrain from doing this. I was grateful for my good zoom lens, that allowed the monks and me to retain a modicum of dignity.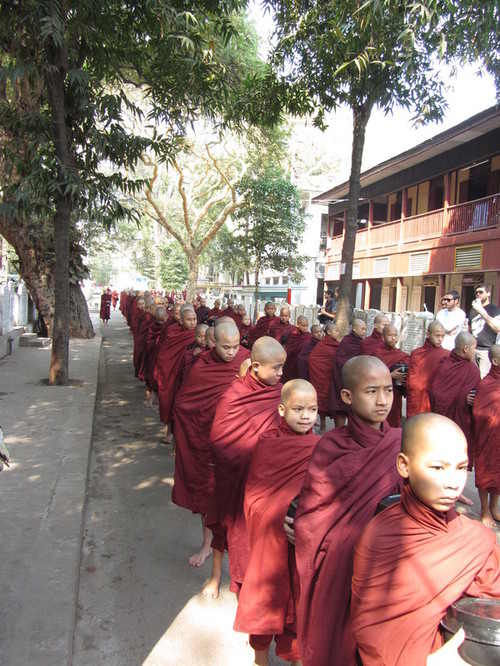 Tourists are now kept out of the dining hall – apparently some female 'foreigners' had arrived unsuitably attired and since then everyone is banned. I should think so too. Quite apart from the unspeakables who did not know how to show respect for the culture, I can think of nothing worse than hoards of strangers watching me eat.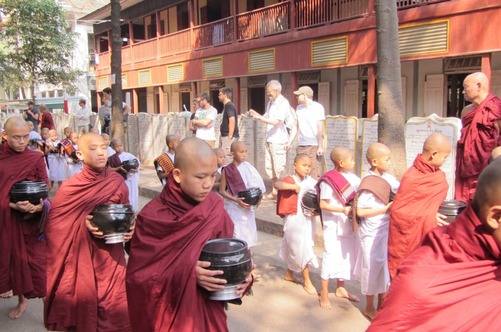 The procession went on for twenty minutes or more. I was most impressed by the calm and dissociation of the young novices, some of whom seemed to be deeply steeped in meditation, so that they scarcely seemed to notice the tourists. Was this a means of coping with this invasion?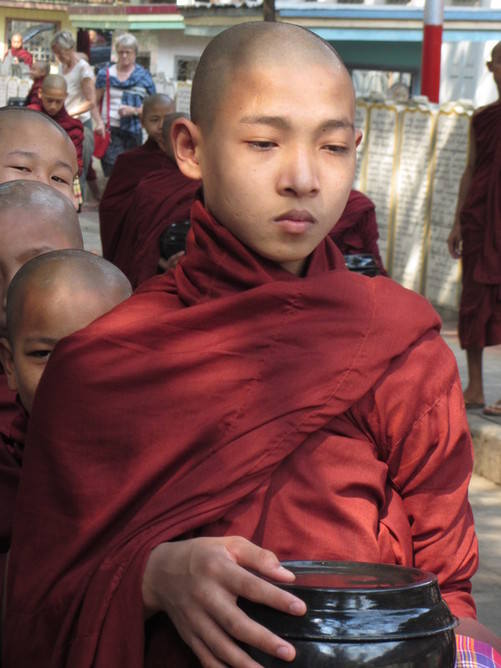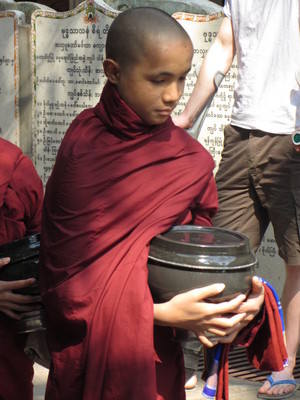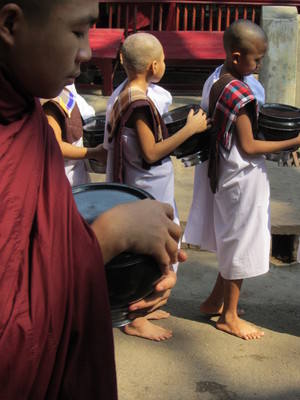 Sights such as this are magical. What a paradox that in order to reap some of this magic we somehow detract from it too, simply by being there, like embarrassing spots of acne on a beautiful face. Though, who knows, perhaps the monks enjoy the attention, or regard ignoring it as a challenge. It's all too easy to jump to conclusions and arrive at the wrong one.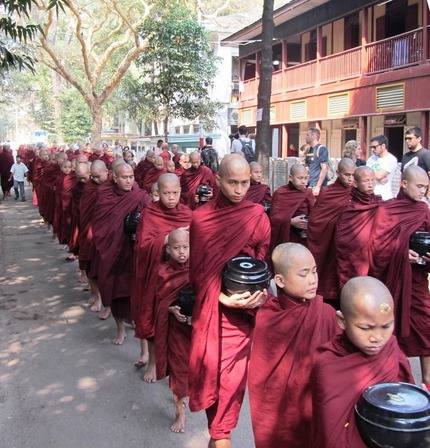 The least we can do when we visit such places is to show sensitivity and try to be as unobtrusive as the situation allows. It pains me that there are too many tourists who don't seem to give a damn.