They say distance lends enchantment, but, since Inle Lake was enchanting even without distance, it's more a case of 'distance lends perspective.' If I'd tried to write about this odd but magical place immediately upon my return from Burma in March, I wouldn't have been able to see the lake for the fish, so to speak.
Inle Lake is in Southern Shan State, about half way up and slightly right of centre of Burma. We flew to a jolly little airport called Heho and from there a Japanese right-hand-drive-and-door coach took up to the lake. I think the journey should have taken around an hour, but we made various stops – one to visit an old wooden monastery where three small children sitting forlornly on the steps provided a good opportunity to shed the first baby suits from my overloaded luggage. Since there appeared to be no mother around, we simply left the clothes with the kiddies. In this way we avoided the hassle that came on later mercy-missions.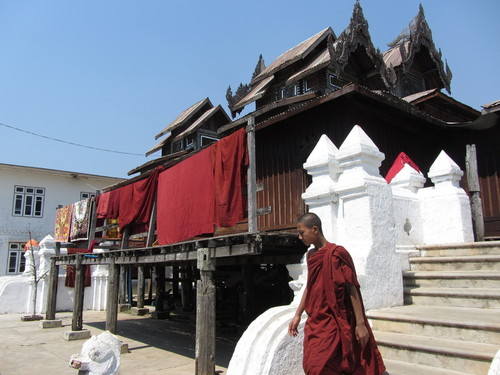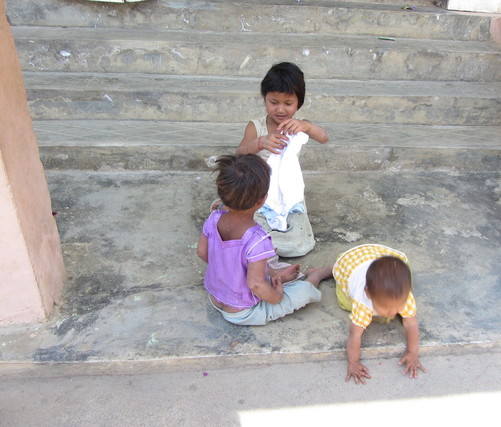 Our second stop was somewhat longer: a special 'extra' had been laid on – you guessed it – a wine-tasting session at one of Burma's only vineyards, up in the mountains. Pat and I declined the pleasure citing our anti-malarial antibiotics as a reason. The Germans hadn't bothered with anti-malarials. We just sat and watched the fun – and admired the beautiful scenery.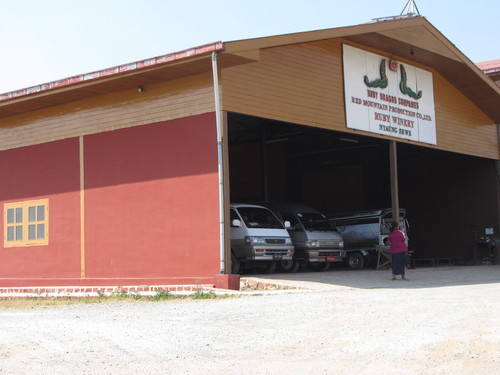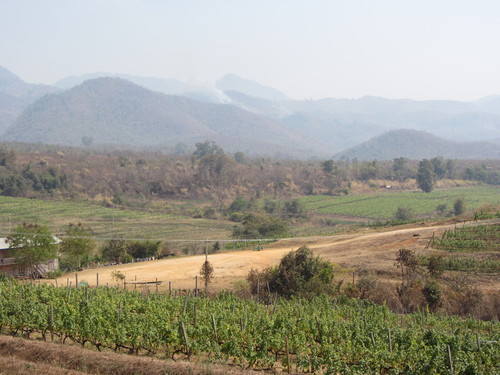 We eventually reached the lake edge and were taken across to our watery hotel in long boats – four to a boat. These boats were to be our transport for the whole of the following day.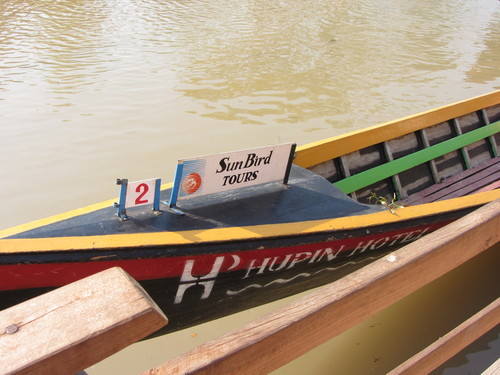 Hotel Hupin is nothing short of spectacular. The cottage rooms on stilts are arranged in a horseshoe in the lake, two people to each room. We had a balcony looking out onto the lake. Watching the sun rise was unforgettable.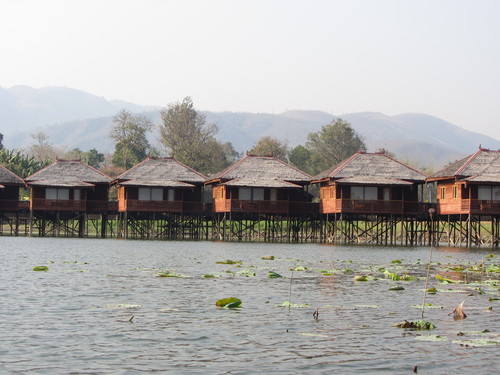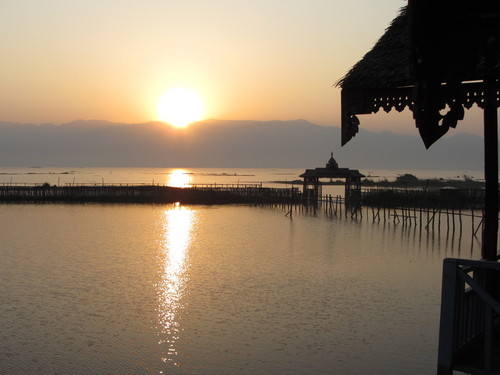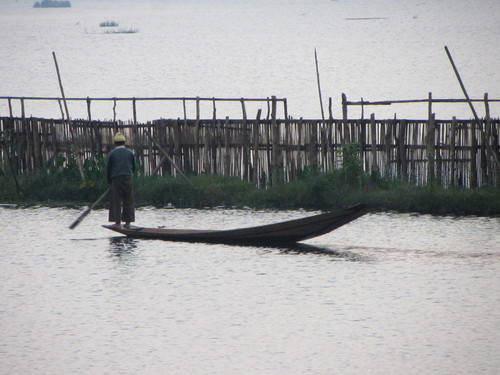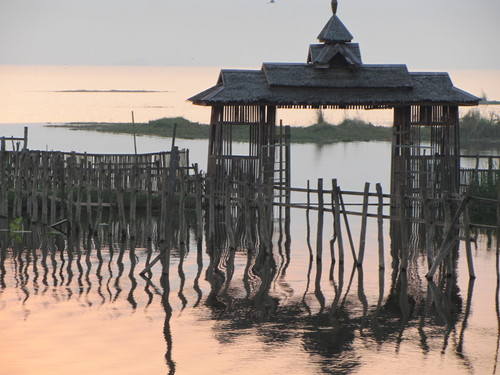 The dining room was a beautiful wooden extravaganza (I wonder how much illegal logging went into it…) and the food was satisfactory. Though I have to say that my impression of Burmese food was 'mediocre' almost everywhere. A kind of Chinese-Thai blend but somehow lacking the 'umph' of either. It always looked very pretty though.
We spent a complete day touring the lake on our long boats. The southern part has only recently been opened up and we weren't taken there. It seems most of the worthwhile sights are in the north. Or perhaps there's another reason for keeping us away…
Inle Lake, some 116 Km2 is renowned for its 'floating gardens'. These artificial islands are made by the villagers from compacted water hyacinth, that ubiquitous South American pest that is clogging up most of the waterways in South East Asia. It's some comfort to know the stuff is being put to good use, but somewhat disturbing to read that since the development of these islands in the 1960s the lake has been reduced by a third. The islands are held in place by long poles. Actually we saw very little cultivation on them apart from a few vegetable and fruit plots, such as tomatoes. Perhaps we were 'between seasons'.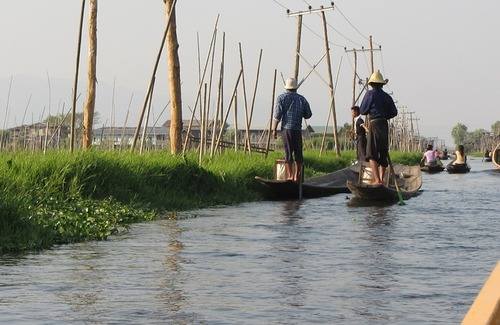 Some of the villages themselves are in the water; a strange, romantic-looking way of life. Poverty? Yes, of course, but it's hard to judge the extent while whizzing through the waterways – either between islands or up canals that the villagers have dug to irrigate their land near the lake. How do you measure poverty? There seems to be plenty of food in Burma, even if other items are scarce, that we in the spoilt West have come to regard as essential: cars, wardrobes full of clothes, televisions. I don't know whether access to electricity and sanitation was widespread, although the electricity poles even extended along the islands. . Hard to imagine a sewage system when you live in a stilt house in a lake.
We stopped at Inn Thain, a village some 45 minutes boat-ride up a canal. Our introduction to Burma that you see in books. The first pagodas we encountered, as we walked from the village up the pagoda-strewn hill, took my breath away. The tumbling, crumbling brick and stucco stupas created a magical landscape. I sidled away from the main route that led through a gauntlet of tacky souvenir-stalls, and lost myself in a world where you came across the remains of stucco sculptures on pagoda walls, or, found yourself face to face with an ancient Buddha that made you feel as if you alone had discovered him after he'd sat hidden in the jungle for 700 years.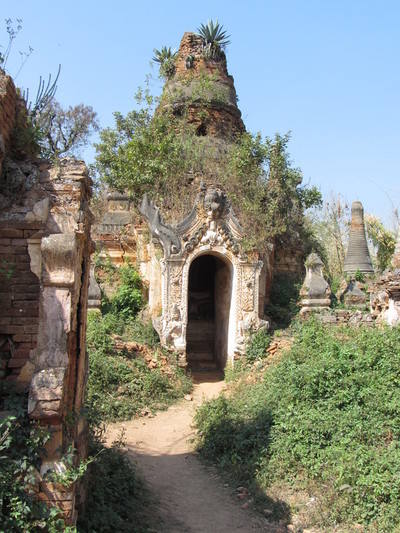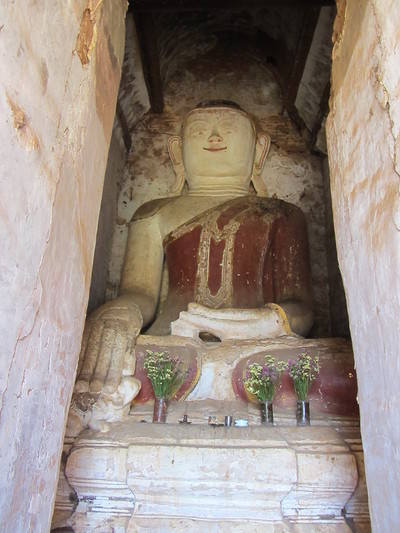 Our German guide suggested some of the stall holders would be good candidates for distributions of make-up and baby clothes. This was where disillusion set in, as far as I was concerned. We started a riot. People crowded round us shouting 'Me, me! I want!' They pushed and grabbed and jostled. They tried to grab a second when they already had one. It was actually quite intimidating. Men demanded lipstick – I can only assume, to impress their women. I wasn't happy about the make-up anyway. Hardly contributes to alleviation of poverty. Okay, you might say it promotes a feeling of well being. But it also encourages western culture. This in turn could eventually erode their own charming idea of make-up – the application on cheeks and noses of the paste from the thanaka tree. This is meant to beautify, but also guard against pests and sunburn.
This grab and grapple circus was repeated at every place where the locals had already had contact with well-meaning foreigners. Later we would discover other places, where there had been less, or no contact. Here it was a pleasure to hand out a little 'thank you' to the gracious inhabitants for letting us stroll through their village.
At the top of the hill, the stupas stretched far and wide over the slopes. Here's where I experienced another disillusion. For it appears to be auspicious in Burma to (unsympathetically) restore old pagodas. Old ruins seem to hold no charm for the Burmese. The result is, that Inn Thain is proudly coating its beautiful old heritage in cement and gold paint. I weep to think of what this place will look like in a few years' time…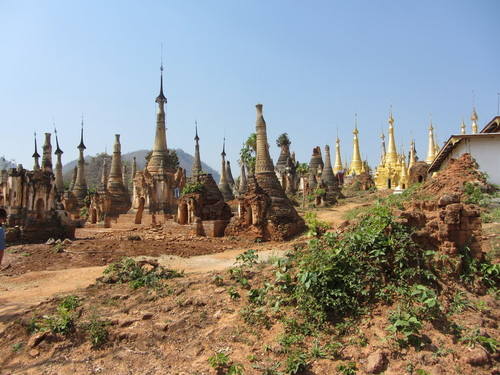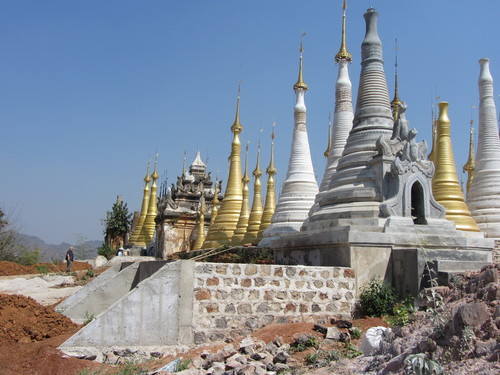 I think this is enough for one 'blog' . Lake Inle deserves a second instalment so watch this space. I'll leave you with this shot of a kindergarten in the village of Inn Thain. (I can't upload the video I made, which is cute). The kiddies sang for us and we reciprocated by breaking into a spontaneous rendering of 'Hänschen Klein', a German folksong that, luckily, I remembered from my childhood, and, even more luckily, nobody videoed!