HOLYLAND BLOG PART 6 - JOURNEY'S END
Posted on
Warning: ask around in Israel how to get from A to B and you'll get a dozen different answers. You might even start an argument, as we did before we even got off the plane at Ben Gurion Airport. Once the clapping had died down (yes, applause broke out on landing) and everyone had scrambled to their feet to get ready for the disembarkation scrum, attention focused on us. Where were we staying? No-one had heard of the Diaghilev but they all knew where it was by the time my booking form had been passed round the cabin, so that they could see with their own eyes and explain the location to each other.
Ah. Just off Rothschild Boulevard. You'll need a taxi.
No, they won't – they can get a train to Tel Aviv and then a taxi.
Why get a taxi? They can get a bus from the railway station… and so on.
Before we knew it, a 'heated discussion' had broken out. I thanked them hastily and grabbed back my booking form. We took a taxi.
Actually the travel debate started even earlier, while we were still in England. The only way I'd been able to plan a decent itinerary was to travel from Tel Aviv to Jerusalem on Saturday. I emailed my travel plans and hotel bookings to Israeli friends, relatives and the guide I'd engaged for Jerusalem. This caused something of an online uproar.
Why do you want to go to Jerusalem on Shabbat? You can't get there. No hire cars, no buses…
Nobody goes to Jerusalem on Shabbat. Nothing happens there. Stay in Tel Aviv…
You might get a taxi to take you but it will cost double…
I should add that none of these objections to our Saturday travel were religiously motivated, there just seemed to be a general fear that a. we might get into a tight corner, b. we might get bored or c. we might get nowhere. Our guide finally realised that nothing was going to stop us from travelling on Saturday morning, so he let slip that the only way was to take a sherut (a multi-passenger service taxi).
This sounded like a punishment. Why had no-one mentioned it before?
The receptionist at the Diaghilev confirmed that the sheruts would be running. She didn't look too confident about it though, and called one of the hotel's trusty taxis to take us to the Central Bus Station, from where the sheruts left. (It's not a nice area, she explained). Even the Lonely Planet Guide joined in the argument by stating that the sheruts leave from somewhere else on Shabbat. Not so, said the taxi driver, and he was right.
He drove us straight to the Jerusalem-bound sherut, we boarded and in minutes we were off. As smooth a journey as I've had anywhere and cost a pittance. And for a few shekels extra the driver took us right to our hotel once the others had got out at the sherut stop.
Our third major transportation issue involved the journey from Jerusalem to the West Galilee area in the north of the country up near the Lebanese border. A cousin lives on a kibbutz up there, and she'd invited us to stay overnight. The question was, how to get there from Jerusalem. I'd looked on the map and had worked out a route that involved a bus to Haifa, then another to Nahariya, a coastal town within a short taxi ride of the kibbutz. Once again I received several suggestions..
Get a train from Tel Aviv to Nahariya. (Go back to Tel Aviv? Not likely)
You'll have to hire a taxi. It will be expensive. (Great.)
No, no, don't go by bus! (Never did find out the reason for this)
My cousin rang us at the Montefiore, our hotel in Jerusalem. Listen, she said. Best thing to do is take a taxi to Ben Gurion Airport and the train to Nahariya from the station there. I'll meet you in Nahariya.
I asked the receptionist at the Montefiore to organise a taxi. 350 shekels, he announced. £60 just to get us to the airport. Then I remembered the Nesher Service – a kind of airport sherut system. I'd read about it in the Lonely Planet along with the ominous advice 'don't believe unscrupulous taxi drivers who tell you it's no longer running…'
It was indeed running, and for around £11 per person we booked our seats. As with the sherut, it worked like a dream and we even managed to get an earlier train from the airport to Nahariya.
The train ride was lovely – it was good to relax. We passed through Haifa and caught a glimpse of the fabulous Baha'i Temple on Mount Carmel. I remembered my first visit as a student in the 60s arriving at Haifa port on the Hermes, a tramp steamer of the Epirotiki Line. How glorious it had been then, to see the shining temple up on the green hill, after several days camped out on the Hermes' insalubrious deck.
Kibbutz Yehiam was founded in 1946 by the Zionist-socialist Hashomer Hatzair youth movement and my cousin has lived there since the early 50s. In the early days the old Crusader Castle served as a temporary shelter for the pioneers. The kibbutz was besieged in the War of Independence. A convoy sent to relieve it in March 1948 was ambushed and 47 people, half the convoy, were killed. However, the kibbutz held out until the end of the war, in spite of numerous attacks. Even more recently in times of unrest it is near enough to the Lebanon border to be vulnerable to rocket attacks, some of which have landed nearby.
It's a beautiful place, set high in the wooded Galilean hills, with views across to Lebanon and, on a clear day, to the Mediterranean.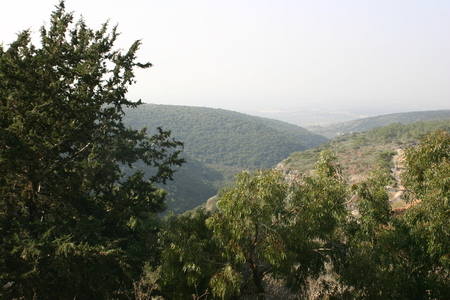 The castle has recently been restored and is a magnificent place, of massive dimensions. Part of the old ruined halls have been floored with wood so that concerts and festivals can take place there.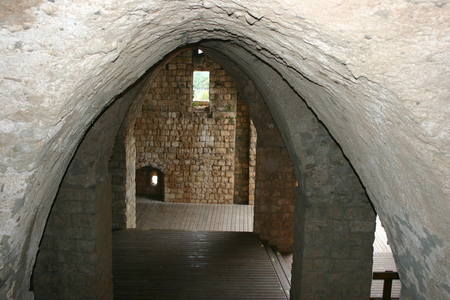 Originally built by the Crusaders in the 12th century, it was conquered and destroyed by the Mammeluke Sultan, Baybars, in 1265, leaving only roofless rooms, ruined walls and the remains of towers. Five hundred years later it was partly rebuilt by a Bedouin Sheikh who gained control over Galilee. Most of today's structures date from this time though enough of the Crusader walls remain to be impressive.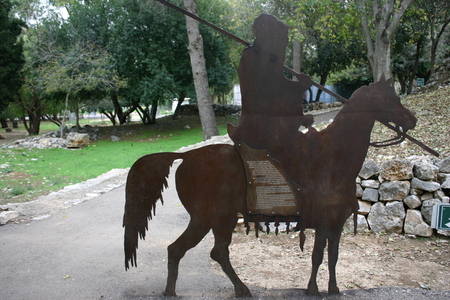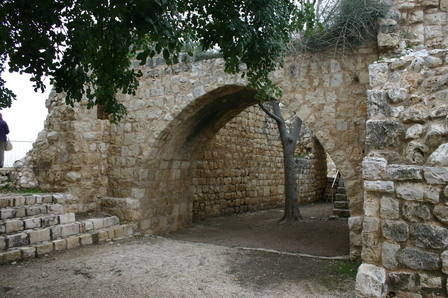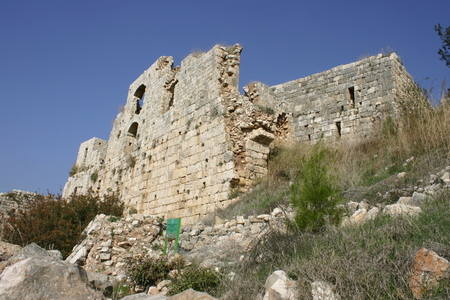 Yehiam was the nearest to tropical that I saw in Israel although the weather was far from warm at night. We were housed in a nice guestroom, that reminded me so much of a rest house in the forests of Sri Lanka. The plants also seemed lush and exotic.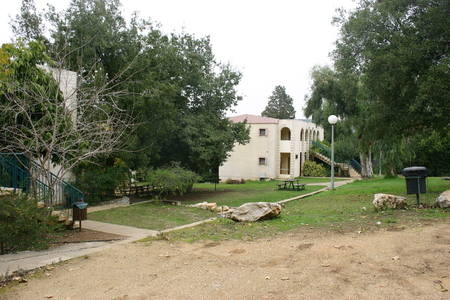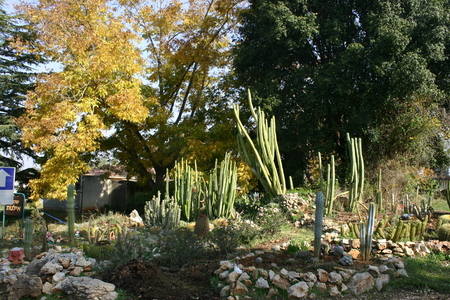 The kibbutz has its own fields, a distance away. They grow bananas and avocados among other things. But their main living comes from a meat-processing plant where they manufacture beef and chicken pastrami. These days some of their buildings have been rented to private enterprises such as the lady who creates sculptures with mosaics.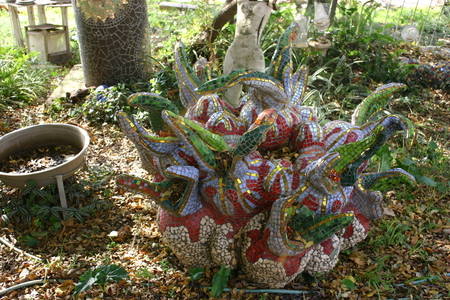 There are a few shops including a souvenir shop that sells mementos, which on the proprietor's own admission, are not always made in Israel. The lizard I fancied was 'probably from India'. I bought it anyway to add to my collection. However, this Dream Fairy, that my cousin bought for my granddaughter, was I'm sure, locally made as I've never seen anything like it.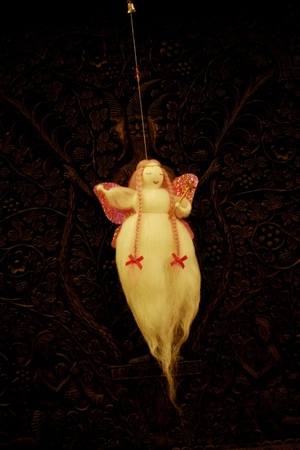 So that's it really – the end of my Israel blog to coincide with the end of yet another year. To all reading this let me wish you a Happy New Year with good health and peace.