A GERMAN CHRISTMAS MARKET
Posted on
I put on yet another of my non-existent hats today. As a member of the committee of the Guildford-Freiburg Society, I was roped into helping out at the Christmas Market in Guildford's beautiful Guildhall, which is held each year to promote Freiburg, Guildford's twin in the Black Forest area of Germany.
My shift at the toy stall was no hardship. The Guildhall is one of Guildford's treasures, rendered even lovelier when viewed through a glass of hot Glühwein. The attendance was good too, many people were lured in by the promise of German Christmas biscuits, wooden toys and candles from the Black Forest and, of course, the Glühwein. But I suspect the wonderful old building itself was as much of a draw as the market. It's not always open and many people, including tourists were quite awed by its splendour.
This shows the wonderful vaulted ceiling (as well as the candle stall) and the panelled oak walls.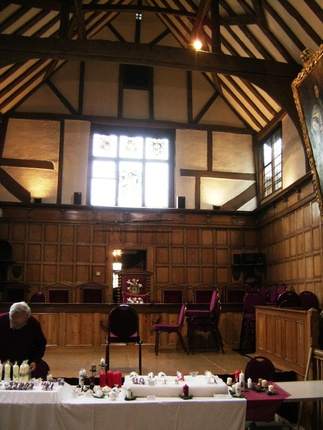 And here are two of the great oil paintings.