LAOS 2015: 2 The Road To Xieng Khouang
Posted on
To get to the Xieng Khouang Plateau from Vang Vieng by road involves a journey of some 6-8 hours (depending on how often you stop) across part of the highest mountain area in Laos. The tallest peak, Phou Bia stands at 2819 m (compare with Ben Nevis at 1344 m) and is a little further south than the road we travelled. Nevertheless we were surrounded by mountains of up to almost 2000 m for most of the route. The views were stunning – forested (and, alas, deforested) ranges stretching to the horizon. We were really on top of the world. Of course here also the results of slash and burn agriculture were never out of sight.
The road into the mountains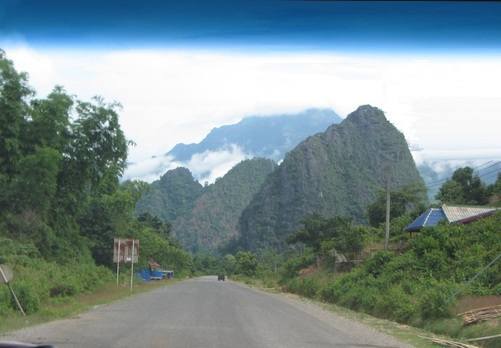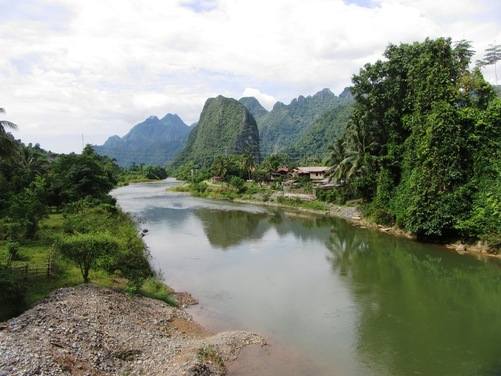 Before we started to climb in earnest, we made some notable stops not far from Vang Vieng. Two years ago we had climbed off the road into a temple complex, the far side of which afforded spectacular views of a village beneath a particularly awesome peak. I was very pleased to have found this place again – and I could actually 'guide the guide', as he did not know it. The area is well-known for producing Lao oranges.
View from the temple near Vang Vieng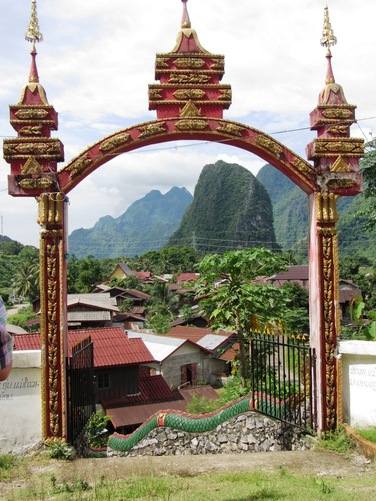 An Australian Aid poster warning about Foot and Mouth Disease was a reminder of the vulnerability of a country where cattle abound and which is surrounded by so many other countries. Cattle in Lao are small and chestnut brown.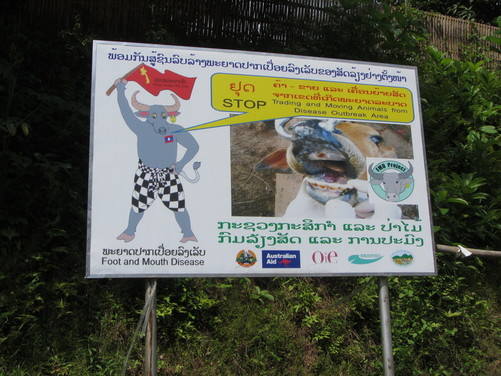 We also stopped at a roadside market that sold wild-life products. This, alongside deforestation is a major problem in Lao – as it is in the whole of Indochina and the Far East. It was a distressing stop for all of us. All kinds of animals, including squirrels and rat-like creatures, birds, tortoises, lizards, amphibians and land crabs, crammed into tiny cages ready for slaughter and consumption. Deer parts, drowned creatures in wine bottles, just as I have seen in China. Although the government is ostensibly trying to stamp out trapping and hunting of wildlife, tradition is very strong among tribes that have relied on this method of survival throughout their history - the concepts of cruelty to animals, conservation and ecotourism are alien to the culture. It will take many years and a huge international funding effort to change these cultural perceptons. The people selling these products are well aware that what they are doing is illegal, and tried to stop us from taking photographs.
Stalls selling wildlife products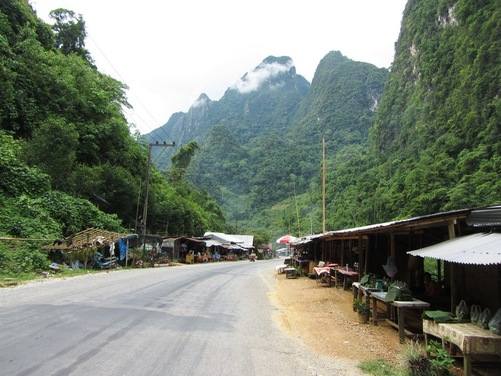 As we drove on up and through the mountains I reflected on the fact that Indochina has an drained kind of beauty – stripped of so many of its wild creatures the gorgeous hills are something of an empty shell. I tried to suppress my depressing thoughts and focus on the breath-taking vistas.
We stopped at the Phou Pieng restaurant at the top of the pass though the mountains. The views from here are certainly unsurpassed in Laos. If the restaurant was mind-blowing, the toilets were even more so. I have no hesitation in saying that they are the most spectacular toilets I have ever seen. Show me any, anywhere in the world, that come close. A row of ladies toilet cubicles – some western sit-upons, some the crouching type, all clean enough to eat your lunch off (almost...) Enthroned upon your perch you look straight out at the distant ranges – no window to impede the view, all open-plan! The only construction between you and infinity is a wide area of decking adorned with elaborate pots of orchids and other exotics. We spent a good half hour trying to get decent photographs of the toilet plus the view but because of the bright sunlight outside it was almost impossible.
View from Phou Pieng restaurant at the top of the world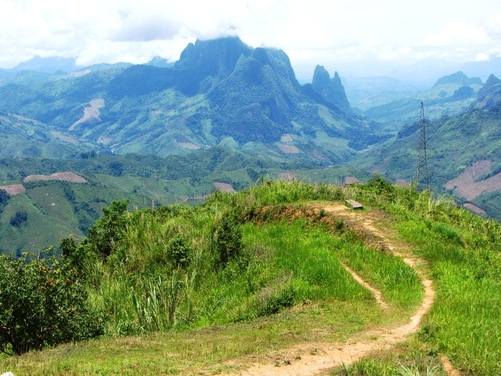 View from the Phou Pieng toilets!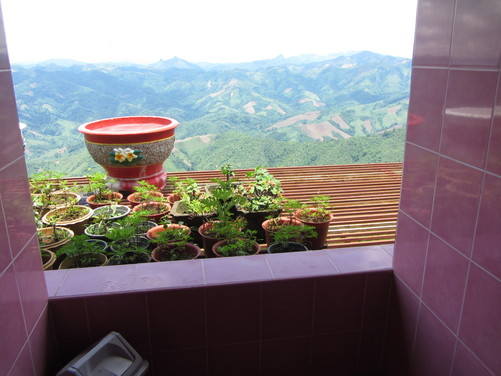 After this exotic lunch break we carried on through the mountains. Our guide, Mr Koh, pointed out some Hmong (mountain tribe) villages with their thatched roofs. We asked to stop at one. The elderly lady inhabitant invited us inside her house. We admired the huge, tidy room, with a small sleeping room at the side. Huge sacks of grain were piled against the far wall – the fruits of the harvest from their surrounding fields, where the young people were all hard at work.
Hmong village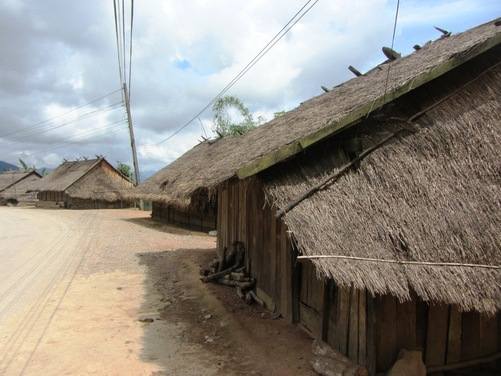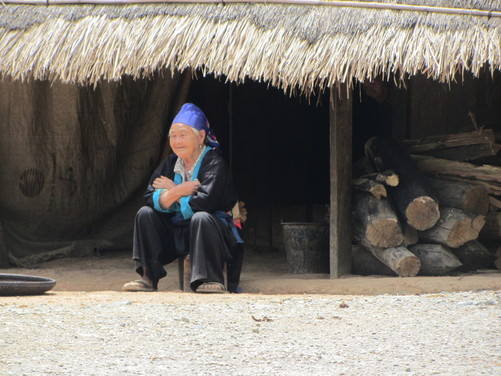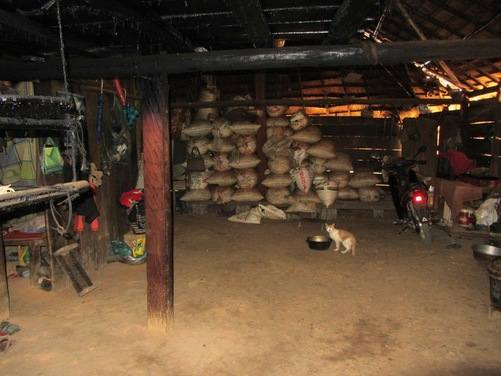 We rolled into Phonsavan, the capital of Xieng Khouang district in the early evening. It had been a long, thought-provoking day.